Some Blaney families

[1] John Blaney (c.1598-1648) of Ulster descended from David Lloyd Blayney (1523-95), including links to the New Zeland David Blayney and the US Chadwallader BLANEY (BLAYNEY) - Rebecca WOODS "missing link" - Here

[2] Ambrose Blayney/Blaney (born 1740 Ulster) head of Canadian Blaneys Here

[3] John Blaney (born 1600 England) emigrated to Massachusetts (?also from David Lloyd Blayney) Here

[4] Hugh Blaney (c.1797-1853) emigrated from Ireland to New Gersey-New York area Here

[5] James Blaney (c.1807-79) of Co. Antrim NI, Father-in-law of
Alice Blaney née O'Neil who took the family to Boston Here

[6] James Blaney (born 1810) emigrated from Ireland to Missouri USA and New Brunswick Canada Here

[7] Daniel Blaney descended from Capt. Edward Blayney who emigrated to Virginia 1620
(Blaneys of Delaware then Chicago, USA) Here

[8] Neal Blaney (of IRA fame/infamy [depending on view] - Irish Blaneys {little information to date}(Blaneys of Ireland) Here
---
---
[1] The descendants of John Blaney (c.1598-1648) of Ulster

born 1598 in Eniskillen Fermanagh, died 1648
son of Thomas Blayney & Elizabeth Powell
grandson of David Lloyd Blayney (1523-1595)
David Lloyd Blayney (1523-1595) had three famous sons, Sir Edward Blayney, the first Blayney Lord (Ireland); Lewis Blayney, who stayed in Wales to continue the loyal Blayney family (based at Gregynog Hall, Montgomery, Powys) and lesser known Captain Thomas Blayney, whose second son, John, used the surname Blaney. David Lloyd seemed to have had at least three families but there is a fair bit of confusion about this, and which children came from which marriage.

Captain Thomas BLAYNEY, born in Tregynon about 1575 married Elizabeth Powell (born in Edenhope, England) and together they had Edward BLAYNEY (b.~1597), John BLANEY (b.~1598 d.~1648), Ambrose BLAYNEY (b.~1600) and Richard BLAYNEY (b.~1605). I include the descent from John BLANEY only here.

Other sources of the surname Blayney exist, the commonest described in Comment 1 before the Bibliography.

The following Descendancy of John BLANEY is largely, but not exclusively based on the work of Robert Blaney [223], [274] (who is not longer sure about some connections), with input also from Erin Blair from Canada [379] and a number of other sources [380], [381], [382], [384], [612] and [385]. However, This is the "weakest" page (with respect to evidence) of any on this Blayney site, so should NOT be taken as authoritative. I am more than willing to hear from anyone with corrections, alternative theories etc.

I have not followed any female (non-Blayney surname) lines, except a New Zealand connection, nor any Blaney lines not clearly arising from or leading to Blayney families.


Irish Counties mentioned - click to enlarge
 
 The generations 1-3 below are not accurate and at present "greyed out" until I can 
 obtain more reliable information. 
   
1 John BLANEY b~1598 in Eniskillen, Co. Fermanagh, Ulster. He was 
  forced through the 1641 rebellion to move to Londonderry. d.~1648.  
  He was mentioned in the army militia lists for 1632:
   'The names of the townesmen of Eneskillin and their armes.
    Baron  de Magherbuy--32 -John Blany Pike sword and call.'
    [Call = musket]  
  Probable son of Captain Thomas BLAYNEY, b~1575 (Tregynon) and  Elizabeth Powell 

  Not known if related to or the same as John Blaney b.1600 (England) [Genealogy below]
 + unknown
  2 John BLANEY b.1625 (Eniskillen Fermanagh), d.26May1662 in Londonderry
   + unknown

    3 John BLANEY b.26Nov1655 (Londonderry); d>1722 (Dromore Tyrone)
      Captain in the 1689 seige of Derry.
      This John Blaney is not reliably proven to be the father of 
      John (~1690-1777), husband of Margaret Bivens but certainly
      fits and until disproven I will assume he was the father.
     + unknown  
      4 John BLANEY b.on [10a] or after 1690 (?1701) in Aghadarragh Townland,
        Co.Tyrone; d.7Nov1777 Newcastle-under-Lyme, Staffs;
        bur. St.Giles Church, Newcastle
        [some confusion with possible brother of Cadwallader b.1705]
        Also confusion (by me) between Newcastle-under-Lyme in Staffordshire, 
        (pop c.122,000) aka "Newcastle Staffs" and Newcastle upon Tyne 
        (pop c.277,000) in Tyne and Wear (south of Northumberland).
       + Margaret Bivens b.3Apr1731; m.1749; d.27Aug1805 
         (all in Newcastle-under-Lyme, Staffordshire).
        5 Susanna BLANEY b.1750; d.22Mar1780 in Newcastle Staffs
         + John POWEL b.1747(5); m.13Jan1767; d.26Jan1809 (Newcastle)
        5 Elizabeth BLANEY b.29Dec1751; d.9Dec1752
        5 Jane BLANEY b.30Jan1754 or b.1May1768; d.18Apr1769 (Newcastle)
          [same death date as the Jane b.1May1768 so assume the same.
        5 Margaret BLANEY b.25May1757 
        5 John BLANEY b.18Feb1759 d.3Feb1789 (both Newcastle Staffs),
          Occ. Victualler
        5 Betty BLANEY b.12Jun1761
        5 William BLANEY b.1763 d.1763
        5 William BLANEY b.21Mar1764; d.10Mar1829 (both Newcastle Staffs)
          in Newcastle Staffs. Shoemaker, Victualler & Cavalryman.
          Burgess of Newcastle-under-Lyme
         +(1)Frances HOPKINS b.1775 (Essex); m.15Jan1798, d.9Aug1807 (Newcastle)
         +(2)Sarah COOK b.14Dec1783(95); m.13Jan1816; d.10Aug1859
           (All in Newcastle Staffs)
          6 Eliza BLANEY b.1818; d.01Oct1820 (both Newcastle-under-Lyme)
          6 Emma BLANEY b.4May1820; d.18May1820 (both Newcastle)
          6 William BLANEY b.7Jul1826 d.30Oct1892 (both in Newcastle Staffs)
           + Emily BOON b.11Jun1839; m.14Jul1870; d.9Mar1915
             (all Newcastle, Staffs)
            7 Minnie BLANEY b.1868 (Newcastle Staffs); d.?1869
            7 William BLANEY b.1871 (Newcastle Staffs)
              d.25Jun1938 Trent House, Stone (Lobar pneumonia)
             + Alice Jane AUDLEY b.1861; m.10Nov1894; d.Jul1933
               (all Newcastle Staffs)
              8 John Beech BLANEY b.1899 (Newcastle), d.26Feb1993 (London)
               + Cicerley LYDIA b.1915, d.Mar1942
                9 William Audley BLANEY b.Jul1895; d.Sep1895 
                  (both Newcastle Staffs)
                9 Lilian May BLANEY b.1897; d.16Jan1901 (both Newcastle Staffs)
                9 Frank BLANEY b.1904; d.1904 (both Newcastle Staffs)
            7 Ida BLANEY b.1872; d.26Mar1885
            7 John Thomas BLANEY b.1874; d.4Feb1938 (both Newcastle Staffs)
             + Margaret Ann ELLIS m.31Mar1902; d.Aug1943 (both Newcastle Staffs)
              8 Ida Margaret BLANEY b.1903 in Newcastle
              8 William Henry BLANEY b.11Mar1904 (Newcastle); d.5Oct1990 (Basford Stoke on Trent)
               + Marion Whitehead b.14Mar1916; m.16Jan1946, d.4Dec1990 (Stoke on Trent)
                9 Peter BLANEY b.30Jul1948 (Stoke on Trent)
                9 Ann BLANEY b.1950 (Stoke on Trent)
                 + David Thomas BAYLISS m.1979
                9 Jill BLANEY b.19Dec1950
                 + Nicholas John REGNAULD m.12Jun1976
            7 Emily BLANEY b.1876 (Newcastle); d.9Oct1919 


Frank BLANEY
(left) 1900 [274]

7

Frank BLANEY b.16Feb1880; d.17Feb1944 Musician (band leader), dancer and carpenter + Alice Jane CLAYTON b.27Jul1883; m.4Apr1904, d.16Jul1946 (All Newcastle Staffs) 8 Harold BLANEY b.8Jun1904 (Newcastle); d.1979 Deganwy, North Wales + Vera BOURNE b.1915 (Newcastle-under-Lyme), m.1939, d.5Mar1999 (Penmaenmawr Co Conwy, Wales) 9 Edward BLANEY b.15Mar1943 (Newcastle Staffs) + Valerie Lloyd m.1970 (Aberystwith) 10 Melanie BLANEY 10 Andrea BLANEY 9 Sylvia BLANEY b.1949 + John BAXTER m. (Llandudno) 8 Lilian May BLANEY b.10Mar1908 (Newcastle Staffs) + Vivian POTTER b.1916 (Auckland, NZ); m.1945; d.10Dec1994 (Auckland) 9 Phillip Potter 9 Rica Potter 9 Janet Potter 8 Winnie BLANEY b.27Jun1910; d.1993 (both Newcastle Staffs) + Clifford PORTSMORE b.28Nov1909; m.26Dec1938; d.30Apr1970 8 Frank BLANEY b.24Mar1912 (Newcastle Staffs); d.8Dec1986 (Stoke on Trent) 8 Gordon Hedley BLANEY b.25Jul1918 + Margaret Dawson b.27May1926; m.29May1948 (both Stoke on Trent) 9 Living BLAYNEY 5 Thomas BLANEY b.1May1768, d.5Oct1772 5 John BLANEY 3 Infant Dau BLANEY b.Aug1657; d.26Aug1657 (Londonderry) 3 John BLANEY b.30Aug1658 and d.1710 in Londonderry (unclear why two sons named John as they both survived to adulthood)) + Jane 4 John BLANEY b.1701 in Londonderry 3 Henry BLANEY b.27Dec1660 (Londonderry) This Henry is not reliably proven to be the grandfather of Cadwallader (1705-1794), husband of Rebecca WOODS but circumstantial evidence like their use of Christian names common to the Blayney Barons, proven literacy and financial resources suggest this was a strong possibility [223] [1270]. + ___ 4 John BLANEY b.1681 + ___ 5 John BLANEY (BLAYNEY) d.7Jul1777 [probable confusion with John b>1690] This John joined the army and served in Minorca for over 15 years, then the Low Contries, Army records have his name is spelt 'Blayney' in 1748/9 but Blaney in 1750 & 1775 He settled in Newcastle, Staffordshire, England Some records have him as the husband of Margaret BIVENS 5 Cadwallader BLANEY b.1705 (Dromore, Co. Tyrone), d.1794 (Oughterard Townland, Co.Tyrone). Known on the LDS Family Search as Chadwallader BLANEY (BLAYNEY) - EUREKA!, the "missing link" to US Blayneys + Rebecca WOODS b.1712; m.1732 (Clogher); d. Oughterard Townland, Co.Tyrone dau of Anthony WOODS b.1680(7) and Sarah HAMILTON b.1680(7); m.1712 6 John BLANEY (BLAYNEY) (I) b.1734 (Oughterard Townland) emig. to US in 1795 with 8 children, settled in Ohio Co, WV 6 Henry BLANEY b~1735 Oughterard Townland Trained soldier, em. to America, killed in War of Independednce + unk d.1766 6 Andrew BLANEY b.1740 6 Ambrose BLANEY b.1740 m. & d. in Oughterard Townland, Co. Tyrone, Ulster, Ireland + Jane STEELE b.1745 (Dullaghan Co Tyrone); m.1767; d.Oughterard Townland See Ambrose/Jane descendants below 6 Benjamin BLANEY (BLAYNEY) b.1754 This Benjamin attended Trinity College, Dublin University, graduating BA (special Gratia) Vern 1779 [383] but was NOT the famous Dr Benjamin BLAYNEY b.1728. Nor was he the Captain Benjamin Blaney who arrived in Boston 1775 from Northern Ireland, raised and funded a Company of Minutemen for "Patriot cause". 6 James BLANEY (BLAYNEY) b.~1755 (Dromore, Co.Tyrone); d. PA 6 Cadwallader BLANEY (BLAYNEY) b.1755/7 d.1841 + unk b.1755 6

John BLANEY (BLAYNEY) b.1760(55) d.1825(32) 3 Katherine BLANEY b.2Jan1662 + unkn b.1755
---
---
[2] Ambrose Blayney (born 1740 Ulster) head of Canadian Blaneys

          6 Ambrose BLAYNEY (BLANEY) b.1740 (Oughterard)
            d.(Oughterard); son of Cadwallader BLANEY and Rebecca WOODS
           + Jane STEELE b.1745 (Dullaghan Co.Tyrone)
             Both Jane & Ambrose died in Oughterard Townland, Co. Tyrone, Ulster, Ireland.

            7 Cadwallader (Chadwallader) BLAYNEY (BLANEY) b.1768 (Dullaghan Co Tyrone),
              d.1855 (E. Caledonia Twp, Ontario)
              His surname is given as "Blayney" in the Sprowls Family History
              and the 1851 Census [9], Farmer
              See also Canadian Blaneys 
             + Mary Sproule b.1768 (Dullaghan Co Tyrone);
               d.1855 (East Caledonia, Ontario, Canada) [331]

              8 Jane (Jennie) BLAYNEY b.1792 (Dullaghan, Co. Tyrone, Ulster);
                m~1815 (Dullaghan; d.22AUG1871 (West Hawkesbury Twp., Prescott Co., Ontario)
               + Oliver BARTON b.1787 (Co Fermanagh, Ireland); d.31Jan1874 (West Hawkesbury)
                9 Nine children: Thomas, Gustavus; George, Mary A., Atchison J., 
                  Sarah J., Margaret, John J. and William BARTON 

              8 Ambrose BLAYNEY (BLANEY) b.1794 [8] (1798)
                Dullaghan Co. Tyrone, Ireland d.1885
               + Elizabeth SMITH b~1789/1800; m.1820; d.1869, daughter of John SMITH
                 and Ann RALSTON (Rolston)
                9 Anna (Anne) BLAYNEY (BLANEY) b.?1830
                  Co. Tyrone d.1880
                 + Andrew Buchanan (1st marriage).
                   He then married Rebecca b.1855 in 1881 [8]
                9 John BLAYNEY (BLANEY) b.1822, Co. Tyrone, Ireland
                9 Mary BLAYNEY (BLANEY) b.1824
                 + David Clements m.13Oct1846 see also [382]
                9  Elizabeth (Bessie) BLAYNEY (BLANEY) b.1826
                 + John JOHNSTON b.1825 (Dromore) d.(Zearing Marshall Co Iowa)
                9  Martha BLAYNEY (BLANEY) b.1826 (Dullaghan Co Tyrone)
                  d.1880 (Zearing Iowa)
                 + John Gilmore. b.24Dec1831 (Dullaghan Co Tyrone), d.Zearing IO.
                9  Rebecca BLAYNEY (BLANEY) b.1831 Dullaghan 
Co Tyrone; d.4Apr1900 Liberty Twp, Marshall, Iowa. + Hugh BLAYNEY (BLANEY) b.1830 (son of Henry [Harry] Steele BLANEY and Frances HARPER) m.1855/6; em.1888; d.1894 (Liberty, Marshall Co Iowa). Hugh was her 1st cousin once removed. 10 See Hugh for children 9 Chadwallader (Chad) BLAYNEY (BLANEY) b.1832 in Dullaghan Co Tyrone 8 James Blaney b.1797 (Dullaghan, Co Tyrone) 8 Oliver BLANEY b.1805 (Dullaghan Co Tyrone) d.1859 (West Hawkesbury, Ontario) [Previously confused with Oliver (1801-1868), s/o Henry Steele BLAYNEY & Mary CRAWFORD] +(1)Lucinda Lovelace m.1831 (Ontario), d.1844 (Prescott Co) The Blaney children of Oliver Blaney b.1805 and Lucinda are identical in name & dates to those of Oliver Blayney b.1805 and Lucinda. See the children in the Canada page 8 George BLANEY b.1807 (Dullaghan), d.9Feb1854 (West Hawkesbury, Ontario) + Margaret HUNTER b.Feb1818 (Antrim), m.4Jan1836 (Grenville, Quebec), d.21Jan1891 (West Hawkesbury, Ontario) See the children in the Canada page 8 Charles BLANEY b.1808 (Dullaghan) + Jane BARTON b.1803 (Fermanagh), m.1830 d.22Jun1874 (East Caledonia, Canada) d/o George BARTON and Mary BLAKELY See the children in the Canada page 8

Sprule (Sproule) BLAYNEY b.1809 (Dullaghan) or 1817 (Co. Tyrone, Ireland) [1095] [908]; d.29Jan1883 (East Caledonia, Canada) Note his grave in Fenaghvale Caledonia Twp, Ontario has him as "SPROULE BLAYNEY" not "Sprule Blaney" while his wife's family dropped the 1st "y" on her grave ie "SPROULE BLANEY" [908] +

Margaret JOHNSON b.~1827 (Co. Fermanagh, Ireland),m.1844 (East Caledonia, Canada), d.22Nov1898 [908] (East Caledonia, Canada) 9 Charles BLANEY b.1845 (East Caledonia Canada) See the Canada page 8 Amelia BLANEY b.1810 (Dullaghan); d<1881 (East Caledonia, Canada) + Charles Sproule b.1809 (Fermanaghm), m.12Nov1839, Farmer 7 George BLANEY b.1769 (Dullaghan, Tyrone), d.18Mar1858 (Blaney Ridge, New Brunswick, Canada) + Catherine Amy BROWN b.1784; d.20Aug1854 [274] [6] (Blaney Ridge New Brunswick Canada) Dau of James and Margery BROWN See the children in the Canada page 7 Oliver BLANEY b.1775 + ___ 7 Henry [Harry] Steel (Steele) BLAYNEY (BLANEY) b.1780/83 (Dullaghan, Tyrone), d.(Oughterard Townland) +(1)Mary CRAWFORD b.1785 (Dromore), m.~1800, d.<1820 [1st wife of Henry Steele BLAYNEY / BLANEY] 8 Oliver BLANEY b.1801 (Outerand twd); d.1868 (South Plantagenet, Ontario) 8 Ambrose BLANEY b. (Oughterard Townland, Co Mayo, Connacht, Ireland), d.(Oshawa Ontario Canada) +(2)Frances HARPER, b.1785 (Dromore, Co Tyrone, Ulster), d.1868 (Oughterard Townland) dau of John HARPER & Mary CURRIE [2nd wife of Henry Steele BLAYNEY / BLANEY] 8 Henry BLANEY b.1820 (Outerand twd) + ___ 9 John Harper BLANEY b.1840 9 Henry BLANEY b.1840 9 David BLAYNEY b.1844 (Dromore, Co. Tyrone); d.15Feb1902 (Outerand twd, Dromore, Co. Tyrone, Ireland) + Catherine Jane TODD b.1855 10 Frances Jane BLAYNEY b.17Jan1875 (Outerand) + William Oliver LYNCH m.16Nov1893 (Outerand) 10 Joseph Todd BLAYNEY b.19Aug1876; bpt.2Oct1876 d.18Feb1926 (all in Outerand) + Martha McCONNELL b.17Nov1884 (Carrigan's, Co Tyrone); m.5Jun1906 and d.1Apr1913 (both at Omagh, Co Tyrone) dau of Robert McCONNELL and Isabella PATTON 11 David BLAYNEY b.1Jan1908 (Outerand); d.27Dec1984 (Auckland, New Zealand); Emigrated to New Zealand; ancestor of some NZ Blayneys. bur.31Dec1984 (Waikumete Cem, Auckland - WESTERN LAWN A Row 1, Plot 34); Occ. Grocer See David BLAYNEY in NZ 8 Jane BLANEY b.1824 8 Frances (Fanny) BLANEY b.1828 (Outerand twd); m.1856 + Alexander Leggett (Liggett) b.(Dromore); m.1856 [382] 9 John Liggett b~1850 8 Hugh BLANEY b.1830; m.1857 [382] (Both Outerand twd) d.12May1894 Liberty, Marshall Co. Iowa + Rebecca BLAYNEY (BLANEY b.1831; m.1855 (Dromore) his 1st cousin once removed. 9 Rebecca BLAYNEY (BLANEY) b.7Jul1857 (Dromore); d.1891 Oshawa Canada + John SLOAN 9 Elizabeth BLAYNEY (BLANEY) b.5May1859 (Dromore, Ireland) d.3Feb1920 (Zering, Story, IA.) + Ambrose JOHNSTON 10 Alice Evelina JOHNSTON 10 Sarah M JOHNSTON 10 Kenneth R JOHNSTON 10 Bessie Rebecca JOHNSTON 10 John F JOHNSTON 10

Blayney Humphrus JOHNSTON b.1895 + Lola McBRIDE 10 Ambrose T JOHNSTON 9 John S. BLAYNEY (BLANEY) b.23Sep1860 (Omagh, co Tyrone) Occ. Farmer, lost left arm in gun accident, lived over 90yr + Lillian ROBINSON (d. of TB) 10 Isabella R BLAYNEY b~1906 (Tyron, Co McPherson, Iowa) 10 Margaret R BLAYNEY b~1908 (Tyron) 10 John H BLAYNEY b.1911 (Nebraska) 10 Verner R BLAYNEY b.1913 9 Henry Steele BLAYNEY (BLANEY) b.17May1862 9 Ambrose BLAYNEY (BLANEY) b.6Jul1866; d.1868 (both Outerand twd) 9 Maria (?Mary) BLAYNEY (BLANEY) b.5Jun1868 + Levi Ogilvie SCOTT b.024Apr1868 (co Randolf, IN); m.19Mar1891 (Zearing) 9 Margaret BLAYNEY (BLANEY) b.Oct1876 (Outerand twd) + Charles MAYNE m. (Liberty, co Marshall, Iowa)
---
---
[3] The descendants of John Blaney (born 1600 England, emigrated
to Massachusetts) - possibly descended from David Lloyd Blayney

Father of John BLANEY b~1630 of Essex, Massachusetts ("Head" of the Essex Blaneys) who married Hannah KING, Sarah POWELL then Elizabeth PURCHASE


1 John BLANEY b.1600 in England [1092] [1100]; d.1672
  [?unrelated to John Blayney b~1598 (Co. Fermanagh, Ulster),
   probable son of Captain Thomas BLAYNEY, b~1575 (Tregynon) and Elizabeth Powell]  
  2 John BLANEY b.~1630 (~1652, twn 1618-1649) (Lynn, Essex, Massachusetts=MA, USA);
    Planter, settled in Lynn, Massachusetts in 1659 
    d.1715 (15Mar or 29Sep) (Charlestown, Suffolk, MA); Three wives:

   +(1)Hannah KING m.1660 See < a href="#HK">Hannah 
   +(1)Sarah POWELL (née SALLIE/MERRILL)  m.1672 See Sarah  
   +(1)Elizabeth PURCHASE (née ANDREWS/MACKWORTH)  m.1678 See Elizabeth


   +(1)Hannah KING m.11Jul1660 [1115]; d.11Jul1676; bur Lynn, MA
       (1st wife of John Blayney c.1630-1715)
       [dau of Daniel KING I b.1602; d.27May 1672 (Lynn, Essex, MA) and 
       Elizabeth GUY b.1606 (England); d.26Feb1677 (Lynn, MA)]
    3 John BLANEY (1661-1715) (See John)
    3 Daniel BLANEY (1664 -dy). (See Daniel)
    3 Henry BLANEY (1666-?) (See Henry)
    3 Hannah BLANEY (1667-1725) (See Henry)
    3 Joseph BLANEY (1670-1727 (See Joseph)
    3 Elizabeth BLANEY (1673-?) (See Elizabeth)
    3 Penelope BLANEY (167?-?) (See Penelope)
    3 Sarah BLANEY (167?-?) (See Sarah)


    3 John BLANEY Jr b.5May1661 (Lynn, MA) [1115]; d.29Dec1723 (age 62)
      Yeoman and cordwiner in Salem; Quaker 
      1st son of John BLANEY (c1630-1715) & Hannah KING (1606-76)
     + Elizabeth WILLIAMS n&3233;e PURCHASE m.20Dec1683 [1115] (Marblehead); d.1701
       dau of Thomas PURCHASE [or widow of Thomas PURCHASE] 
      4 John BLANEY b.1Aug1686 (Salem, MA); d.1735 (age49)
        Husbandman, slaughterer, cordwainer, fisherman, mariner and innholder.
       + Katherine Walker of Salem m.20Nov1712
      4 Thomas BLANEY b.31May1689 (Salem, MA); d.11Nov1766 (age77) (Lynn, MA)
        Quaker. Occ. yeoman, shoreman, mariner, fisherman, shoemaker & cordwainer
       +(1)Desire DEAN b.26Apr1703 (Salem); m.8Dec1720; d.29Nov1739 (age 36)
         Dau. of Joeseph DEANE and Elizabeth Flint
        5 Thomas BLANEY b~1721; d~1792 (age71)
         + Mary ESTES b.Salem; m.25Jan1753; d.12Apr1799 (Salem)
           dau of Abijah and Mary ESTES
        5 Abigail BLANEY b~1723; d.2Aug1776 (age53) (Salem)
         + John White Jr. m.4Jun1745 [4 children]
       +(2)Alice PEASLEY b.Haverhill, MA; d.16Jan1783 (Salem)
         dau of Robert PEASLEY and Alice Currier
        5 Alice BLANEY b~1744; m.1770
         + James NEEDHAM b.Salem; d.Philadelphia, PA of Smallpox
        5 Robert BLANEY b~1746; d~1768 (age22)
      4 Henry BLANEY b.20Aug1698 (Salem); d.3Apr1756 (age57) (Lynn)
        Occ. husbandman, cordwainer, tanner, fisherman, and 
        from 1735 to 1747 an innholder.
       +(2)Hannah (Rand) Graves of Lynn; m.8Sep1748; d~1782
       +(1)Lois Ivory m~1727
        5 Ivory BLANEY b.1728; d~1771 (age43)
          Husbandman of Salem
         + Mary BROWNE of Lynn; m.25Oct1753 
          6 Sarah BLANEY bap.1Apr1770
           + ?David BIRD m.12Dec1789  
          6 Asa BLANEY b.13Jan1767 (Marblehead, MA);
            d.8Jun1843 (age76)  (Marblehead)
           +(1)Joanna Pearce [1st wife of Asa Blayney]
            7 Joanna BLANEY b.25Mar1790; d.24Jan1798 (7) (both Marblehead)
            7 Asa BLANEY bap.31May1793; d.Sept1811 (Lost at Sea)
            7 Sarah ("Sally") Gould BLANEY b.12Nov1794 (Marblehead);
              d.7Sep1855 (age60) (Lynn, MA)
             +(1)David Dustin [4 children]
             +(2)Ebenezer Mansfield [6 children]
            7 Mary N. BLANEY bap.12Mar1797; d.13Aug1873 (Marblehead)
             + Nathaniel Lindsey
           +(2)Emma (Roundy) Steward [2nd wife of Asa Blayney]
               b.24Jul1773 (Marblehead, MA); d.2Oct1836 (Marblehead, MA) 
            7 David BLANEY d.21Nov1877 (Marblehead)
             +(2)Ellen Chamberlain - See below
             +(1)Sarah (Sally) Hooper b.3Sep1795; d.7Apr1831 (35) (both Marblehead) "Consumption"
              8 David Henry BLANEY b.4Sep1826 (Marblehead)
                d.11Dec1907 (age81) (East Boston, MA)
               +(2)Lydia A. (Woodbury) BERRY b.3Dec1835 (North Weare, NH)
                   d.4Sep1926 (age90) (Brookline, MA)
               +(1)Almira TEWKSBURY b.9Nov1827; d.21Mar1890 (age62) (both Boston)
                9 David Walter BLANEY b.2Mar1850 (Marblehead, MA)
                  d.19Nov1888 (age38) (Winthrop, MA)
                 +(1)Matilda P Mayo b.11Sep1852 (Truro, Barnstable Co., MA)
                   d.7Dec1876 (age24) (Boston)
                  10 David Walter BLANEY b.23Nov1876 (East Boston)
                     d.26Oct1921 (age44) (Boston) from general peritonitis.
                   +(1)Alice Gertrude WIGLEY b.19May1876;
                     d.24Dec1951 (age75) (both Milton, MA); dv.
                    11 Ruth BLANEY b.6Feb1899 (Boston)
                   +(2)Grace L McCORMACK b~1877 (Chelsea MA);
                     d.10Jan1943 (age66) (Roxbury, MA)
                    11 Matilida Mayo BLANEY b.4Nov1909 (Boston);
                       d.31Aug1991 (age81) (Framingham, MA)
                 +(2)Jennie A STROELIN b~1853 (Cambridge, MA)
                  2nd wife of David Walter Blaney b.1850

                9 Frank BLANEY b.9May1851; d.27Mar1923 (age71) (both Boston)
                 + Alice Finley O'Halloran b.29Feb1856 (Cowansville, Quebec, Canada)
                   d.5Jan1944 (age87) (North Adams, MA)
                   She also married Asa Belknap FOSTER
                9 Helen Augusta BLANEY b.3Dec1852; d.3Dec1852 (Boston)
                9 Angia Bell BLANEY b.20Sep1862 (Boston)
                  d.11Dec1940 (age78) (Chestnut Hill [Newton] MA)
                 + George Ernest Armstrong b.27Sep1857 (Chelsea, MA)
                   d.19Jun1902 (age44) (Becket, MA) of typhoid
 
              8 John Hooper BLANEY b.27Mar1829 (Marblehead)
                d.29Dec1892 (age63) (Cottage City, MA)
               + Eliza A. CROWELL b.27Nov1835 (Lynn, MA) ?not married
                9 Charles Hooper BLANEY b.9Oct1852 (Boston, Ma.);
                  d~25Oct1895 drowning ?mv (age43) (Boston, Ma.)
                9 Child BLANEY
                9 Child BLANEY
                9 Herbert BLANEY b.17Jan1869 (Boston); d.1May1933 (age64)

              8 Sally BLANEY b.27Jul1830; d.6Mar1831 (7/12) (both Marblehead)


             +(2)Ellen Palmer Chamberlain b.29Oct1808 (Marblehead)
                d.11March1879 (age70)
                2nd wife of David BLANEY (d.21Nov1877)
              8 Ellen Maria BLANEY b.2Nov1836; d.29Mar1841 (age4) (both Marblehead)
              8 Ellen Maria BLANEY b.5Nov1842; d.22Aug1866 (age23) (both Marblehead)
              8 Charles Jason BLANEY b.17Jun1846 (Marblehead)
                d.24Oct1913 (age67) (Brookline [Boston], MA)
               + Carrie V MASON b~9Mar1861 (MA); d.15Nov1948 (age87) (Boston)
            7 Joanna BLANEY b.1Oct1802; d.24Sep1803 (11/12) (both Marblehead)
            7 Thomas Roundy BLANEY b.11Feb1804 (Marblehead); d.3Dec1883 (age 79) (Boston)
             +(1)Rebecca Homan BROWN d.30Sep1831 (Marblehead) "suddenly"
              8 Rebecca BLANEY d.12Aug1899
              8 Emily Stewart BLANEY b.27Jul1831; d.24Oct1914 (age83) (Marblehead)
               + Joseph William LINDSAY b.Apr1823; d.2Jan1902 (Marblehead)
                 [4 children] 
             +(2)Mary Ann CROSS b.Portland, Maine; d.12Dec1873 (Boston)
              8 Mary Ann BLANEY b.25Oct1838; d.26Jul1916 (age77) (both Boston)
               + William MacKIE b.13Jun1834 (Cuba);
                 d.18Aug 1913 (age79) (Brookline, MA);  [3 children]
              8 Lucy Maria BLANEY b.3Oct1845 (Chelsea, MA); d.2Mar1913 (age67) (Boston)
            7 Henry BLANEY b.11Dec1805; d.2Apr1860 (age54) (both Marblehead)
             + Elizabeth H LOVETT b~11May1810; d.11May1899 (age89) (Rochester, NY)
              8 William Henry BLANEY d.18Sep1892 (Boston, MA) Jaw cancer
               +(1)Sarah Emily Wade LONG b.1840 (Charlestown, MA)
                 d.7Mar1867 (age27) (Boston, MA)
               +(2)Sarah ADAMS b.25Sep1846 (Boston, MA);
                 d.2Dec1874 (28) (Somerville, MA) of pulmonary TB

                9 Harry Blaney b.3Jun1870 (Charlestown, MA)
                  d.20Feb1892 (age21) (Somerville)
                9 Harry C. Blaney b.4Jun1871 (Charlestown, MA); d.20Feb1892 (Somerville, MA)
                9 William ("Willie") Blaney b.24Nov1874;
                  d.11Feb1875 (11/52) (both Somerville) -premature.
              8 Caroline Rogers BLANEY
              8 Elizabeth Archer BLANEY d.29Dec1891 (Rochester, NY)
              8 Arabella Cass BLANEY b.Jul1842 (Salem, MA); d.Jan1920 (Cambridge, MA) "nephritis"
               + Philip HIGGINS b.8Nov1835; d.15Aug1920 "cirrhosis" (both Wellfleet, MA); [6 children]
              8 Harriet Glover BLANEY b.Sep1844 (Salem, MA)
               + Henry CLOUTMAN b.Feb1852 (Marblehead) [4 children]

            7 Samuel Roundy BLANEY b.26Dec1807 (Marblehead); d.1860 (age53)
             + Frances FULLER b~1806 (Brighton, MA); d.4May1860 (age54) (Boston, MA)
              8 Frances ("Fanny") A BLANEY b~1838 (Boston, MA)
               + George HARLOW b.23Jan1840 (Worcester, MA) ob.
              8 Mary C BLANEY b~1838 (Boston, MA)
               + Harrison C. DRUCKLER
              8 Caroline BLANEY b~1845 (MA)
            7 Hannah BLANEY b.11Jun1809; d.17Dec1851 (age42) (both Marblehead)
             + William Gray BESSOM b.23Jun1809 (Marblehead); d.6Sep1833 (24) "at Batavia"

            7 Nathaniel Roundy BLANEY b.4Sep1811 (Marblehead);
              d.30Mar1849 (age37) (Brownsville ?TX) "Cholera"
             + Elizabeth Stevens GRAVES
              8 Asa BLANEY b.17Sep1833; d.19Jan1914 (age80) (both Marblehead)
               + Ellen HAMSON
                9 Horace A BLANEY b.23Jun1865; d.23Oct1932 (age67) (both Marblehead)
                9 Ellen BLANEY b.11Mar1867; d.16Jul1870 (age3) (both Marblehead)
              8 Mary B BLANEY b.31Dec1835; d.1875 (age 40) (both Marblehead)
               + William KNIGHT b.24Dec1831 (Marblehead) [2 children]
              8 Nathaniel Roundy BLANEY b.26Aug1836 (Marblehead)
                d.9Jul1864 (age27) (Marblehead, MA)
               + Mary E DAVID b.Nov1836 (Nova Scotia); d.15Aug1871 (Marblehead, MA)
                9 Mary E BLANEY b.16Nov1856 (Marblehead)
                9 Nathaniel Russell BLANEY b.9Sep1858 (Marblehead)
                  d.1Jan1926 (age67) 
                 + Ella EDMANDS b.27Jun1866 (Saugus, MA); d.15Nov1920 (Saugus, MA)
                  10 ___(dau.) BLANEY b.30Dec1886 (Saugus, MA)
                  10 Alice E BLANEY b.30Dec1887 (Lynn, MA)
                   + Nelson EDMANDS b.12Jun1875 (Saugus, MA) [4 children]
                  10 Emma Stevens BLANEY b.19Oct1888 (Lynn, MA);
                     d.25Aug1889 (10 months) (Lynn, MA)
                  10 May Ella BLANEY b.16Apr1890 (Lynn, MA)
                  10 Lillian Pearl BLANEY b.19Mar1892 (Saugus, MA)
                     d.17Jan1985 (age92) (Boston, MA)
                   + Robert George WEBBER b.27Oct1888 (St. Johns, Newfoundland)
                     d.4Aug1966 (age77) (Lynn, MA) [3 children]
                  10 Leroy L BLANEY b.7Dec1894 (Malden, MA); d.29Jul1895 (7 months)
                  10 William Tucker BLANEY b.2May1896 (Malden, MA);
                     d.14Sep1976 (age80) (Chelsea, MA)
                   +(1)Viola Charlotte WILSON b.15Dec1898; d.31Oct1950 (age51) (both at Lynn, MA)
                    11 Thelma Louise BLANEY
                    11 Alvin Russell BLANEY
                    11 Eleanor May BLANEY
                    11 William Tucker BLANEY b.21May1934 (Danvers, MA)
                       d.3Sep1988 (age54) (Boston, MA)
                     +(1)Sandra KIRN
                      12 Jody Blaney
                     +(2)Donna Elaine SPENCE
                      12 Douglas Alan BLANEY
                   +(2)Marion Moulton SPEAR b.22Jan1897; d.23Aug1983 (86) (both Lynn, MA).
                  10 Franklin BLANEY b.31Oct1898; d.8Jul1899 (8/12) (both at Malden)
                  10 Edward R BLANEY b.23Oct1899; d.1Aug1900 (9/12) (both at Malden)
                  10 Edward D Sylvester BLANEY b.1Aug1901 (Malden, MA);
                     d.14Nov1988 (age 87) (Danvers, MA)
                   + Viola McADOO b.23Dec1904 (Williamstown, MA);
                     d.11Oct1955 (age50) (Lynn, MA)
                    11 Ruth Clare BLANEY b.22Aug1925 (Lynn, MA)
                       d.6Dec1992 (age67) Burlington, Mass.
                     +(1)Carl Benedict MacKEEN b.19Jun1922 (Woburn, MA);
                         d.26Feb1968 (age45) (Lynn, MA)
                     +(2)John M Leslie
                  10 Milton D BLANEY b.16Feb1903 (Malden); d.Feb1976 (age73)
                  10 John Alva BLANEY b.21Mar1904; d.26Aug1904 (5/12) (both Revere, MA)
                  10 Lourin Edmands BLANEY b.6Jun1905; d.1Aug1905 (8/52) (both Revere, MA)

                9 Frank BLANEY b.14Jan1861 (Marblehead);
                  d.14Jan1899 (age38) (Marblehead) of "phthisis" (Pulmonary TB)
              8 Elizabeth G BLANEY b.16Jan1838; d.17Dec1857 (age 19) (both Marblehead)
              8 Sarah BLANEY b.9Apr1839; d.21Mar1841 (age1) (both Marblehead)
              8 William T BLANEY b.17Mar1840; d.18Mar1841 (age1) (both Marblehead)
              8 William T BLANEY b.14May1842 (Marblehead);
                d.16Feb1892 (age49) (Marblehead)
               + Eliza BROWN
                9 Eliza Emeline BLANEY b.29Jul1869 (Marblehead); d.1900 (age31)
                 + Richard HUMPHREY b.31Aug1867 (Marblehead)
                  10 William HUMPHREY b.1890; ob.
                9 Nathaniel Roundy BLANEY b.8Jul1871 (Marblehead);
                  d.13Jul1955 (age84) (Portland, Maine)
                 +(1)Mary L Salkins b.20Feb1872; d.5Oct1924 (age 52) (both Marblehead)
                 +(2)Addie M (Monroe) Stephenson b25Apr1889 (Round Pond, Maine)
                     d.10April1977 (age87) (Portland, Maine)
                9 Hannah Daly BLANEY b.7Apr1875 (Marblehead)
                 + John HIGH b.8Jan1872 (Marblehead); ob [3 children]
                9 Child (son) BLANEY b. & d.21Jun1877 stillborn (Marblehead)
              8 Sarah Ellen BLANEY b.9Mar1846 (Marblehead); d.1920 (age74)
               + William HOOPER [4 children]
              8 Emma Glover BLANEY b.14Apr1848 (Marblehead)
               + John Stevens 

        5 ___ BLANEY d~1761
        5 Lydia BLANEY b~1755
         + Jacob Collins Jr m~1772

      4 David BLANEY b.6Jul1701 (Salem); d.4Apr1764 (age62) (Lynn, MA)
        husbandman and tanner
       + Martha Mansfield b.4Jan (Lynn, MA); m~1724; d.1764
         [dau of Joseph MANSFIELD and Elizabeth WILLIAMS]
        5 Mary BLANEY b~1725
         + Henry TREVETT of Marblehead; m.24Dec1747
        5 Martha BLANEY b~1727; d~Sep1746 (age19)
         + Matthew ESTES b.7Sep1720 (Lynn, MA); d.16Feb1784 (age63)
        5 David BLANEY d.22May1751 (Lynn, MA)
      4 Elizabeth BLANEY b.25Dec1692 (Salem); d~1791 (age99)
       + Walter PHILLIPS jr., of Lynn
      4 Hannah BLANEY b.31Mar1694 (Salem); d.1729 (age35)
       + John REED of Marblehead; shoreman; m.13June1721
      4 Sarah BLANEY b.Salem, MA; d.1729
       + Benjamin PIX (or Pecks) of Marblehead; cordwainer
      4 Penelope BLANEY b~1705 (Salem); d.1759 (age54)
       + John Dampney m.31Oct1728 (Marblehead) 
      4 Daniel Blaney b.25Nov1684 (Salem, MA); d~1723 (age 39)


    3 Daniel BLANEY b.3Aug1664  (Lynn, MA); d.y.
      2nd son of John BLANEY (c1630-1715) & Hannah KING (1606-76)

    3 Henry BLANEY b.15Aug1666  (Lynn, MA)
      3rd son of John BLANEY (c1630-1715) & Hannah KING (1606-76)

    3 Hannah BLANEY b.11Nov1667; d.25May1725
      1st dau. of John BLANEY (c1630-1715) & Hannah KING (1606-76)
     + Robert DEVEREUX (yoeman) b~1644; d.1740

    3 Joseph BLANEY b.02Oct1670 (Lynn, MA); d.16Jan1727 (age56) (Lynn, MA); Shipwright
      4th son of John BLANEY (c1630-1715) & Hannah KING (1606-76)
     + Abigail ANDREWS b.6Jan1670 (Hingham, Plymouth, MA);
       m.16Jan1693/4 [1115]; d.10Dec1765 (age95) (Hingham)
       Dau. of Capt. Thomas ANDREWS Sr. & Ruth TOBEY

      4 Col. Joseph BLANEY Esq b.4Mar1694/5 (Hingham, Plymouth Co., MA); d.Jan1762 (Marblehead, MA) [1098]
        Tanner and esquire living in Marblehead (where all children born)
       + Elizabeth Cogswell b.1700 (Chebacco, Essex, Massachusetts); m~1717; d.(Chebacco)
        5 Elizabeth BLANEY b.14Jan1720/1; d.30March1729. 
        5 Hannah BLANEY b.14May1723; d.1Apri1729
        5 Abigail BLANEY b.5Dec1724; d.1Jan1725
        5 Abigail BLANEY b.11Jan1725/6
         + Robert Hooper m.21Aug1755; d<1783
        5 Joseph BLANEY b.24May1728; d.22Apr1729  
5 Joseph BLANEY b.12Feb1729/30; d.1786 Esquire, merchant and selectman +

Abigail Browne of Salem m.19May1757; d.24Dec 1776; 5 Benjamin BLANEY b.16Dec1731 . See below {40). 5 Nehemiah BLANEY b.3Nov1733 5 Elizabeth BLANEY b.2Jul1735 5 Susannah BLANEY b.13Jun1737; d.3Jan1737/8 5 William BLANEY b.30Mar1739 5 Benjamin BLANEY b.16Dec1731 (Marblehead, MA) + Sarah TuttleTutell d.1788 6 Elizabeth BLANEY b.10Feb1755 (Lynn, MA) + Amos EVENS [7 Seven children] 6 Male BLANEY b.30Jan1757 (?d.y.) 6 Joseph BLANEY b.11Mar1759 (Lynn, MA) 6 Benjamin BLANEY b.14Aug1763 (Lynn, MA) d.1816 (age 53) (Carolinas) + Mercy (Mary) MARSTON b.?Marblehead, MA dau of Jeffs MARSTON and Sarah BLANEY 7 Benjamin BLANEY b.16Dec1793 (Marblehead); d.13May1867 (age73) (Fitchburg, MA) + Lydia WARD b.19Feb1790; d.5Mar1857 (age 57) (both Ashbumham, MA) + Eliza ROUNDY + Hepsibah Priest DAVIS b.25Feb1798 (Harvard or Shirley, MA) 8 Hepseybath Mercy BLANEY b.28.May1821 (Shirley, MA); ob. "typhus fever" 8 Benjamin Dix BLANEY b.14Aug1823 (Shirley); d. Independence, CA + Margaret Shaw b.1834 (Hesse-Darmstadt, Germany) 9 Frank E BLANEY b.1Apr1857 (Galveston, TX) + Leontine Hector 10 Frank E BLANEY b.3Aug1890 (TX); d.23Aug1908 (age18) 10 Margarett BLANEY b.Feb1892 (TX) 10 Mary Agnes BLANEY b.Feb1895 10 William Hector BLANEY b.1Sep1898 (Dallas, TX) d.3May1979 (age80) (Houston, TX) + Harriet Jane Silvus b.6Sep1903; d.4Feb1999 (age95) (Houston) 11 William Hector BLANEY 11 Walter Edwin BLANEY 11 Harriet BLANEY 9 H. Agnes BLANEY b~1859 (CA) 10 Phillipina ___ 9 Ella Augusta BLANEY b.31May1860 (Marysville, CA); d.19Mar1947 (age86) (Dallas, TX) + Herman Flach b.11May1853 (Quintana, TX); d.24May1928 (age75) (Dallas, TX) [11 children] 9 Florence T BLANEY b.26Feb1861 (Independence, CA); d.25May1947 (age86) + Richard Ivey b.Apr1858 (CA) [4 children] 9 Edward H BLANEY b~1863 (NV); d.1920 (age57) Los Angeles, CA 9 Joseph Robert BLANEY b.28Oct1864 (Independence, CA) d.12Feb1917 (age52) (CA) + Sarah Augusta Kispert b.Nov1872 (CA) 10 Oscar Robert BLANEY b.29May1895 (Inyo Co., CA) 10 Charlotte BLANEY b.Aug1897 (CA) + __ Shaw 9 Charlotte "Lottie" BLANEY b.1866 (CA); d.7Jun1954 (age88) (Dallas, TX) Texas + Richard O'BRIEN 9 Benjamin BLANEY b.1868 (CA) 8 Sarah Elizabeth BLANEY b.11Aug111825 (Shirley, MA); d.11Feb1895 (age69) (Holyoke, MA) "apoplexy" + Cyrus Nickerson b.Sept1826 (Providence, RI); d.12Mar1901 (age74) (Holyoke, MA) [7 children] 8 Joseph William BLANEY b.14Nov1827 (Shirley, MA) 8 Jonathan BLANEY b.24Sep1830 (Shirley, MA); d.24Jun1850 (age19) (Shirley, MA) "of Fits" 8 Andrew Jackson BLANEY b.13Feb1833 (Shirley, MA); d.23Jun1906 (age73) (Occidental, CA) + Catharine WHITE b.Mar1830; d~28Jul1910 (age80) 9 Georgiana Gilman BLANEY b.3Apr1857 (Tomales, CA) d.5Sep1935 (age78) (Oakland, CA). + John D'Arcy Connolly b.26Jun1854 (Co. Galway, Ireland); d.26Jun1920 (age66) (Sonoma Co., CA); [3 children] 9 John Walker BLANEY b.15Mar1859 (CA); d.Oct1931 (age72) (Occidental) + Ella Zilhart b~1869 CA) 10 Besse BLANEY 10 Roy BLANEY 10 Andrew BLANEY b.6Sep1903 (CA); d.5Apr1982 (age78) (Sebastopol, CA) +(1)Rosemary Bowie d.5May1982 11 Andrew Jackson BLANEY +(2)Helen Thurston b.26Dec1888 (Sonoma Co., CA) d.9Jan1974 (age85) Sebastopol, Sonoma Co., CA) 9 Caroline Elizabeth BLANEY b.1863 (CA); d.1918 (age55) (San Rafael, CA) + Maurice Doody [3 children] 8 Abigail BLANEY b.1838 (Shirley, MA) + John Lawrence b~1836 (Ashbumham, MA) [2 children] 7 Mercy BLANEY b.6April1796 (Marblehead); d.16Jun1884(6) (age88) (Boston) Left $20,000 to build the Gothic style church which stood at the southeast corner of Richmond Street and Dorchester Avenue (1887-1980s) 7 Abigail Hooper BLANEY b.23Feb231799 (Marblehead); d.21Jul1875 (age76) (Boston, MA) + Mr. Pollock 7 Sarah BLANEY b.6Jan1801 (Marblehead); d.24Apr1885 (age84) (Boston) + Nathan Bird Clark b~1808 (Brockton, Plymouth Co., MA); d.20Jan1852 (age44) (Dorchester, MA); [3 children] 7 Elisabeth E BLANEY b.26May1803 (Fitchburg, MA) d.27Dec1883 (age80) (Boston, MA) 7 Eunice L BLANEY b.24Aug1805 (Fitchburg); d.8Mar1885 (age79) (Boston) +(1)Franklyn Houghton b.12Apr1803; d.25Sep01878 (age75) +(2)Mr. Ware 7 William Harris BLANEY b.24Aug1809 (Fitchburg, MA) 4 Hannah BLANEY b.17Sep1696 (Hingham, Plymouth Co., MA) d. Marblehead, MA + Benjamin James [10 children] 4 Capt. Benjamin BLANEY b.14Nov1699 (Lynn, MA); d.8Feb1751 ("fell from his horse at Malden, and was taken up dead") [1114] Tanner; selectman and assessor for Maiden in 1744 and 1746 + Abigail Bucknam b~1702; m.13Oct1725; d.15Dec1767 (age65) 5 Abigail BLANEY b.21Jun1730 (Malden, MA); d.23Aug1817 (87) (New Bedford, MA) + Jireh Willis b.26Sep1731 (Dartmouth, MA) [1 child] 5 Huldah BLANEY b.15Oct1733 (Malden, MA) +(1)Joseph Wilson b.5Dec1728; m.20Sep1753; d.5Oct1758 (29) (all Malden, MA) +(2)Joseph Paine b.15Nov1724 (Charlestown, MA) 5 Nehemiah BLANEY b.9Oct1735; d.16Oct1761 (26) (both Malden, MA) + Chloe Green of Malden; m.29May1760 5 Capt. Benjamin BLANEY b.24Jul1738 (Malden, MA); Representative to the general court, town treasurer, selectman and assessor for Malden; Revolutionary soldier d.29Jan1820 (81) (Chester, VT) + Hannah Osgood of Billerica; mi24Nov1765; d.11Nov1804 (Malden, MA) 6 Hannah BLANEY b.23Mar1767 (Malden, MA); d.16Jan1794 (26) (Philadelphia, PA) + William Hawkes 6 Abigail "Nabby" BLANEY b.16Aug1768 (Malden, MA); d.10Jul1838 (69) + Samuel Sargent [5 children] 6 Elizabeth BLANEY b.30Oct1770 (Malden, MA); d.Sep1858 (87) (South Reading, MA) + Thomas Thacher [5 children] 6 Benjamin BLANEY b.1Oct1774; d.15Nov1853 (79) (both Malden, MA) + Elizabeth Waite b.23Jul1771; d.18Apr1855 (83) (both Malden, MA) 7 Martha BLANEY b.11Apr1799 (Malden, MA) + Josiah Townsend [3 children] 7 Elizabeth (Eliza) BLANEY b.24Dec1801; d.6Jul1831 (29) (both Malden) + Stephen Stimpson [1 child] 6 Martha BLANEY b.23Mar1779; d.Jan1799 (19) (both Malden, MA) 5 Elizabeth BLANEY b.18Jun1740; d.28Oct1808 (68) (both Malden, MA) "Lung Fever" + William Waite b~1739; m.20Jul1762; d.26Jul1809 (70) (Malden) [4 children] 5 Andrews BLANEY b.28Nov1742; d.2Jun1772 (29) (both Malden, MA); Tanner + Lydia SARGENT of Chelsea M.2Dec1770 6 Abigail BLANEY 6 Andrews BLANEY + Mary Seccomb of Salem m.23Apr1799 4 Jedidiah Blaney b.21Nov1701 (Lynn, MA); d.1781 (80) (Marblehead, MA) + Bethia Cogswell b.1708 (Chebacco, Essex, MA); m.15Jan1729/30; d. Chebacco, Dau of John Cogswell and Hannah Goodhue 5 Jedediah BLANEY bap.Jun1731 (Boxford); d.18Apr1778 Oxford, MA + Beulah Brown b.19Jul1738 (Oxford) 6 Bethia BLANEY b.14Jan1764 (Oxford, MA); d.31Jan1851 (87) (Seabrook, NH) + Daniel Gale + Josiah Locke [11 children] 6 Joseph BLANEY b.4Jun1767 (Oxford, Worcester Co., MA) d.Oct1823 (56) (Boston, MA) + Hannah Winship 7 Joseph BLANEY 7 Mary Ann BLANEY b.23May1800 (Boston, MA) + Elliot Hills [3 children] 6 Elizabeth ("Betsey") BLANEY b.1June1771 (Oxford, MA) d.1June1791 (20) 5 Hannah BLANEY bap.15Apr1733 d.9Oct1811 (Marblehead, MA). + Ronald Bruce m.28Oct1756 [6 children] 5 Jonathan BLANEY bap.11Jan1736; ?dy. 5 Ruth BLANEY bap.1Jan1738; dy. 5 Ruth BLANEY bap.9Mar1740; d.17Aug1815 (Yarmouth, Nova Scotia) + John Tardy m.21Nov1756 [5 children] Like his name, he went AWOL ~1781 ("absent >15 years in 1796") 5 Stephen BLANEY b.10Aug1784 (Jamaica, West Indies) although apparently bap.3Oct1742 (Marblehead)! [1100] Mariner, based in Marblehead + Mary Chapell m.12Dec1765; d.5May1831 (Marblehead) 6 Stephen BLANEY bap.24Aug1766; d<1798 + Mary Pedrick m.21Oct1787; d.22Oct1803 (Marblehead) 6 Mary BLANEY bap.24Jan1768; dy. 6 Mary BLANEY bap24 Jun1770 6 Jonathan BLANEY bap.13Sep1777 (Marblehead)! dy. [1100] 6 Jonathan Chapell BLANEY b.13Oct1776 (Yarmouth, Nova Scotia) bap.17Feb1788 (age11); d.10Mar1844 (67) (Marblehead, MA) + Elizabeth K. (Betsy) Trask (Marston) b.Jun1778; d.11Sep1856 (78) (Marblehead) 7 Elias Trask BLANEY 7 Mary BLANEY + Joseph Standley [7 children] 7 Sarah BLANEY b. (Marblehead) 7 Abigail BLANEY b.7Oct1893 (Marblehead) 7

Jonathan BLANEY b.10Oct1872 (Marblehead); d.29Oct1821 + Ann McLeod b~26Jan1823 (Scotland); d.22Nov1881 (58) (Marblehead) 8 John C BLANEY b.23Feb1843 (Marblehead); d.2Aug1867 (24) "lost at sea" 8 Norman BLANEY b.9Aug1844 (Marblehead) 8 Joseph BLANEY b~20Aug1843; d28Apr1885 (41) (Marblehead) 8 Samuel BLANEY 8 Jane BLANEY 8 Mary Ann BLANEY b.8Jun1853 (Marblehead) + John Trefrey 8 Catherine BLANEY b.10Jan1856; d.21Aug1862 (6) (both Marblehead) 8 Stephen BLANEY b.16Nov1858 (Marblehead) d.2Mar1935 (76) (Lynn, MA) + Harriet Marsh b~1810; d.19Aug1841 (30) "childbirth" 8 Jonathan Stanley BLANEY d.unm 31Jan1865 8 Child BLANEY b.19Aug1841; d.25Sep1841 (7/52) "fits" 7 John Chapell BLANEY b.13Mar1895 (Lynn, MA) + Sarah "Sally" C Thayer b.10Oct1809 (Salem, MA) d.1873 (64) (Marblehead, MA) "consumption" 8 Sarah Cloon BLANEY b.12Oct1833 (Boston) + Charles Nowell [1 child] 8 Elizabeth T BLANEY b.1835 (Marblehead, MA) + Warren Marshall 8 John Chapell BLANEY b.29May1843 (Marblehead, MA) d.5Jul1851 (8) (Lynn, MA) 7 Stephen Kempton BLANEY b~1814 (Marblehead) d.12Jul1881 (67) (Concord, NH) + Mary J Titus d.6Mar1887 8 Ellen M BLANEY b~1847 (Boston) 8 Mary BLANEY 7 Infant Blaney d.5Oct1816 (Marblehead) 6 William BLANEY b.28Nov1774; bap.11Dec1774 + Sarah Browne 6 Sarah BLANEY b.8Sep1779 (Yarmouth, NS) 6 Joseph BLANEY b.14Jun1781 (Yarmouth, NS) 5 William BLANEY bap.30Dec1744; Bap.30Dec1744 (Marblehead) Yeoman and mariner. Moved to Lyndeborough, NH ~1777; d~1805 + Ruth Besome m.19Sep1771. a widow in 1806. 6 William BLANEY bap.18Apr1773 (Marblehead) + Nancy WILLISTON m.26Jan1796 & moved back to Marblehead 7 Nancy BLANEY bap.11Feb1798 7 Elizabeth Williston BLANEY bap.5Jan1800; dy. 7 Elizabeth Williston BLANEY bap.31Jan1808 7 Jane BLANEY bap.31Jan1808 7 Ruth BLANEY bap.31Jan1808 7 William BLANEY bap.31Jan1808 ? 4 for the price of one? 6 Christopher BLANEY bap.21Jan1776 (Marblehead) 6 Stephen BLANEY b~1786 (age20 in 1806) 6 Bethiah BLANEY b~1788 (age17 in 1806) 6 Susanna BLANEY b~1790 (age16 in 1806) 6 Grace BLANEY b~1794 (age12 in 1806) 5 Elizabeth BLANEY bap.24Aug1746; d.16Jan1829 (Marblehead, MA) + Richard Nick (Nix or Necks) 15Aug1765 5 Sarah BLANEY bap.6Nov1748; dy. 5 Sarah BLANEY b.Marblehead, MA; bap.4Feb1750; d.30Sep1821 (Marblehead, MA) + Jeffrey MARSTON m.20Jul1769 5 Eunice BLANEY bap.29Dec1751; ?dy. 4

Jonathan BLANEY b.6Jan1703/4 (Lynn, MA); d.8Sep1757 (Lynn, MA) Yeoman; Son of Joseph BLANEY and Abigail Andrews +(2)Abigail Yeoman d~1757 [2nd wife of Joseph BLANEY b~1742] +(1)Hannah GRAY b~1716 (?Lynn, MA); d.1Aug1744 (28) (Lynn, MA) Dau. William Gray and Hannah Scarlet 5 Joseph - see below 5 Abigail BLANEY b~1737; d.2Jun1801 (64) (both Lynn, MA) + Nathaniel LEWIS m.22Sep1757 [4 children] + John Watts m>1769 and<1798 + Joseph Felt [1 child] 5 Hannah BLANEY b~1739 (Lynn, MA) + Mark Graves b.3Oct1739 (Lynn); d.19Jun1809 (69) (Marblehead, MA) [7 children] 5 Mary BLANEY b~1740 (Lynn, MA) + Nathaniel Fuller b.Lynn, MA; d.22May1799 (Lynn) "Rheumatic Fever" [8 children] 5 Joseph BLANEY b~1742 (Lynn, MA); d.22Apr1826 (84) (Swampscott, MA) Son of Jonathan BLANEY and Hannah Gray +(2)Hannah HANFORD of Salem m~1797; d.1809 +(1)Anna COX of Salem b.1744; m.24Nov1763; d.1782 (38) 6 Jonathan BLANEY (see below) 6 Child Blaney b. Lynn, MA 6 Martha BLANEY b. Lynn, MA; d.10Apr1842 (Lynn, MA) + John Ingalls b. Lynn; d.2May1842 (80) (Lynn) [10 children] 6 Jonathan BLANEY of Lynn MA + Elizabeth ("Betsy") INGALLS m.12Apr1796; d.30Oct1861 (Swampscott) 7 Jonathan BLANEY b.3Mar1796/9 (Lynn, MA) d.11Jan1872 (72) (Swampscott, MA) +(2)Joanna C. (Ingalls) Smith +(1)Lucy Richards b~6Jan1797; d.24May1861 (64) (both Swampscott, MA) 8 Jonathan BLANEY b.28Feb1822 (Lynn, MA) d.28Apr1891 (69) (Swampscott, MA) "pneumonia" + Julia Ann M Collins b~10Sep1824; d.9Jul1894 (69) (Swampscott) 9 Warren BLANEY b.17Jul1845; d.22Jun1847 (1) (both Lynn, MA) "Fits" 9 Jane Elizabeth BLANEY b.29Dec1847 (Lynn, MA); d.15Jan1850 (2) (Lynn) "Scarlet fever" 9 Ellen Marion "Nellie" BLANEY b.19Jul1858 (Swampscott) + Robert Burns Wardwell b.23Jan1855 (Swampscott) [4 children] 9 John Joseph BLANEY b.13Mar1864; d.28Feb1925 (60) (both Swampscott) + Harriet Phillips 10 Jonathan Phillips BLANEY b.25Jul1887 (Lynn); d.1925 (38) + Annie Garnett b~1886 (LaBelle, MS) 11 Martha BLANEY 11 Jonathan Garnett BLANEY b.16Apr1923 (Lynn, MA) d.8Aug1925 (2) (Swampscott) "accidental strychnia poisoning" 11 Joan BLANEY 10 Herbert Wardwell BLANEY b.14Dec1889; d.29Mar1924 (34) (both Swampscott, MA) + Charlotte Greene b.10Jun1892 (Fairhaven); d.Apr1974 (81) 11 Charlotte Hannah BLANEY b.13Dec1916 (Lowell, MA) d.29Feb2000 (83) (Lee's Summit, MO) 11 Harriet Greene BLANEY 11 John Greene BLANEY b.18Aug1921 (Lynn, MA) d.17Apr1994 (72) (Laconia, NH) 10 Child BLANEY b.19Mar1892 (Swampscott) (stillborn son) 10 Frank Willard BLANEY b.23April1895 (Swampscott); d.Dec1966 (71) + Mildred Gifford 10 Evelyn BLANEY b.17Feb1900 (Swampscott); d.5Jul1988 (88) (Weymouth, MA) + Thomas Johnson b.25Apr1898 (Lynn, MA); d.25Mar1983 (age84) (Weymouth, MA) [1 child] 9 Lucy BLANEY b.6Jul1867; d.16Nov1873 (6) (both Swampscott) "Scarlet fever" 8 William Richards BLANEY b.5Dec1827 (Lynn, MA) d.24Jan1916 (88) (Swampscott, MA) + Mary Ann Anderson Jones b.22Mar1841 (Lyndeborough, NH) d.17May1911 (70) (Swampscott, MA) 9 Joel Richards BLANEY b.28Jun1867 (Swampscott, MA) 9 Joanna R BLANEY b.Oct1868 (Swampscott); d.1920 (52) + Arthur Fay Foster b.5Jun1868 (Lynn); d.1920 (52); [3 children] + Sarah Randall b.Houlton, Maine; d.16August 16, 1865 (Swampscott, MA) 9 Alice Louisa BLANEY b.13Aug1852; d.5Sep1891 (39) (both Swampscott) 9 Julia T BLANEY b.15Oct1857 (Swampscott, MA) + Charles E Ashton b.Jul1853 (Lynn MA) [1 child] + John Farrington b~1856 9 Josephine BLANEY 8 Joseph Warren BLANEY b.30Jun1830 (Lynn, MA) d.30Oct1853 (23) (Swampscott, MA) 8 Lucy Ellen BLANEY b.5Jun1833 (Lynn, MA) + William Rowe [2 children] 8 George Dudley BLANEY b.30Sep1842 (Lynn, MA d.21June1863 (20) (Newborn, NC) + Harriet Richardson 7 Joseph BLANEY b.3Mar1799 6 Anne (Anna) BLANEY b. Lynn, MA + Samuel IRESON b.27Aug1770 (Lynn, MA) [2 children] 6 Joseph BLANEY b.9May1777 (Lynn, MA); d.12Jul1830 (53) Swampscott, MA "drowned" [actually killed by a shark - see [1113] [1114] + Ruth Phillips 7 Benjamin BLANEY 7 Alice BLANEY 7 Jonathan BLANEY 7 Anna BLANEY 7 Joseph Ingalls BLANEY b.28Jul1813 (Lynn, MA); d.12Jun1891 (77) (Swampscott, MA) "liver disease" + Martha Pierce 8 William Pierce BLANEY b.3Dec1839 (Lynn, MA); d.30Nov1893 (53) (Boston) + Sarah Stone Atkins b.12Dec1838 (Wellfleet, MA) d.5Mar1919 (80) (Malden, MA) 9 Ida Marion BLANEY b.24May1859; d.27May1859 (3d) (Swampscott) 9 Grace Eveline BLANEY b.27Jan1861; d.8Mar1861 (Swampscott) 9 Clarence E BLANEY b.5Jun1862; d.8Jun1862 (3d) (Swampscott) 9 Child BLANEY b. & d. 7Dec1865 (Swampscott, MA) 9 Carrie Hastings BLANEY b.27Feb1869; d.28Aug1870 (1) (Swampscott) 8 Ruth Elizabeth BLANEY b.29Jul1841 (Lynn, MA) + Dudley H Marshall 8 Martha Jane BLANEY b.15Jul1843 (Lynn, MA); d.1900 (57) + Warren T Small b~1833 (Orleans, Barnstable Co., MA) [4 children] 8 Emma Harris BLANEY b.12May1847 (Lynn, MA); d.1900 (53) + George A Heath b.Sep1851 (South Hampton, NH) 8 Abby Ann BLANEY b.4Nov1849 (Salem, MA) 8 Abbie Ingalls BLANEY b.6Nov1850; d.28Jan1882 (31) (both Swampscott, MA) "miscarriage" + Edmund Brown Thompson b~1851 (Lynn) [2 children] 8 Thomas Hadley BLANEY b.12Jul1852; d.13Sep1852 (9/52) (Swampscott) 8 James Franklin BLANEY b.12Nov1856; d.8Apr1931 (74) (both Swampscott) 8 Mary BLANEY b.8Sep1861; d.11Aug1864 (2) (both Swampscott, MA) 7 James Phillips BLANEY b.11Dec1815; d.19Sep1817 (1) (both Lynn, MA) 7 Elbridge Gerry BLANEY b.3Feb1822 (Lynn, MA) d.29Oct1902 (80) (Swampscott, MA) + Anna Bessom 8 Elizabeth ("Lizzie") Bessom BLANEY b.21Sep1851 (Lynn, MA); d.1900 (49) +(1)Benjamin H Phillips b~1840; d.1871 (31) (both Marblehead, MA) 9 Amos Phillips and Ana Phillips twins b.27Jan1868 (Swampscott) +(2)John Ellison (?) +(3)Henry Curtis Ireland 9 Susie Ireland b.9Set1881 (Swampscott) 8 Amos Phillips BLANEY b.9Jul1853; d.24Oct1854 (1) (both Swampscott) 8 Gerry Elbridge BLANEY b.212Jul1856; d.31Oct1858 (2) (both Swampscott) 8 Gerry Elbridge BLANEY b.4Dec1859 (Swampscott, MA) d.5Jun1946 (86) (Danvers, MA, at state hospital) 8 Anna Aralia BLANEY b.1Jun1876; d.9Jun1881 (5) (both Swampscott, MA) 6 Benjamin BLANEY b. (?Lynn, MA); d~Aug1809 4 Ambrose (Andrews on birth cert) BLANEY b.7Apr1707 (Lynn, MA); Cordwainer Son of Joseph BLANEY and Abigail Andrews + Judah Curtis b.12Jun1710 (Lynn, MA); m.12Jun1729; d~1777 (age67) dau of William Curtis and Elizabeth Scadlock 5 Joseph BLANEY b.29Mar1730 (Lynn, MA) 5 William BLANEY b.21Sep1731 (Lynn, MA); d.17Apr1780 (age48) (Roxbury, + Mary Gridley b.13Nov1734; d.Apr1809 (age74) (both Roxbury, MA) 6 William BLANEY b.23Jul1757; d.5Jan1824 (66) (both Roxbury, MA) + Catherine Mears b.19Jul1762 (Roxbury, MA) 7 Ann Mears BLANEY b.13Mar1784 (Roxbury, MA); d.28Feb1849 (64) (Boston, MA) + Ambrose Blaney b.23Nov1779 7 William BLANEY b.21Nov1785 (Roxbury, MA); d~May1815 (29) + Hannah WilborneWilliams 7 Charles BLANEY b.6Dec1789 (Roxbury, MA); d.15Nov1823 (33) (Boston, MA) + Hannah Beeman b.21Dec1785; d.9Jan1874 (88) Maine 8 Hannah Ann BLANEY b.6Jul1812 (Hampden, Maine) +(1)Gilman Page b.14Jan1811 (Dorchester, Grafton Co., NH) 9 Ann PAGE b.6Oct1835 (Cambridge, MA) +(2)William Black b.20Feb1818 (Charlestown, Sullivan Co., NH) [3 children] 8 Catherine B BLANEY b.12Feb1814 (Frankfort, Maine); d.Aug1877 (63) (Salt Lake City, UT) + Euclid B Houghton b.20Apr1816; d.29Mar1862 (45) St. Louis, MO) [3 children] 8 Charles William BLANEY b.20May1815 (Frankfort, Maine); + Susan (Susanna) B Church 9 Charles William BLANEY b.14Aug1844 (Bethel, Maine); d.25Jun1920 (75) (Malden, MA). + Lucy Kramer b.July1852 (Boston) 9 Elizabeth Brigham BLANEY b.5Jan1847 (Bethel, Maine); d.3Aug1920 (73) (Malden, MA) + Jesse B Thornton b~1839 (Providence, RI) [2 children] 9 Edwin R BLANEY b.6Oct1848; d.14May1849 (7/12) (both Cambridge, MA) 9 Susan Emily BLANEY b.3Jul1850 (Cambridge, MA); d.17Mar1931 (age80) (Malden, MA) 9 Miranda Bickford BLANEY b.31Aug1852 (Cambridge MA); d.26Dec1940 (age88) (Malden, MA) 9 Child (dau) BLANEY Stillborn 25Dec1854 (Cambridge, MA) 9 Julia Blaney b.4Dec1857 (Boston); d.25Mar1939 (81) (Malden, MA) + Robert D Thompson b~1856 (Boston) [1 child] + Fred L Dodge b.1864; d.14Oct1904 (40) (Malden, MA) [2 children] 8 Frances C BLANEY b.1818 (Boston); d.1856 (38), (Chicago, IL) + Benjamin Adams b.26Sep1816 (Hopkinton, MA) d.1Apr1893 (76) Galena, Illinois [5 children] 8 Irving BLANEY b.7Jun1817 (Strafford, VT); d.2Jun1897 (79) (Boston) + Annette W Chandler b.5May1820 (Strafford, VT) d.6Mar1903 (82) (Boston) 9 Annette BLANEY b.19Jul1841 (Boston); d.31Jul1841 (12 days) 9 Child BLANEY b. & d.19July1843 (South Boston) 9 Charles Irving BLANEY b.1Mar1844; d.31Dec1897 (53) (both Boston) +(1)Rebecca Caroline Reed b~1840; d.6Dec1875 (35) (both Boston) 10 Annette Chandler BLANEY b.16Jun1868 (Boston) + William Everett Crowell b.22Sep1872 (Hingham) [1 child] 10 Irving BLANEY b.28Dec1874; d.19Nov1878 (3) (both Boston) +(2)Annette L Goullaud b.July1852 10 Arthur Osgood BLANEY b.8Jul1883 (South Boston); d.26Jan1965 (81) (Quincy, MA) +(1)MaryIda D. Duchaney ("ex" ?dv.) b~1885 (Lawrence, MA); d.14Jan1961 (76) (Boston) 11 Marie Augusta BLANEY b.4Mar1906 11 Arthur Eugene BLANEY b.30Jul1907; d.31Jan1987 (79) (both Braintree, MA) +(2)Mary Louise Griffin b~18Dec1892; d.5Sep1961 (68) (both Boston) 12 William Richard BLANEY 12 Eugene Edward BLANEY +(2)Carmen Landry Geraldine 11 Joseph Irvin BLANEY b.3Nov1908 (Braintree, MA) d.16Dec1976 (68) (Brockton, MA) + Mary Charlotte Mann b.21Jul1910 (Boston) d.15October1983 (73) (Easton, MA) 12 Joan Catherine BLANEY 12 Joseph Irvin BLANEY 12 Eleanor Louise BLANEY 12 Robert William BLANEY 12 Margaret Cecelia BLANEY 11 Florence Louise BLANEY b.28Dec1909 (Braintree, MA) d.25Nov1987 (77) (Quincy, MA) + Daniel W Seward b.29Jan1905; d.22May1993 (88) (Quincy) 11 Laura E BLANEY 11 Charles Herbert BLANEY b.19Sep1913 (Boston); d.2Nov1974 (61) (Lowell, MA) + ___ ?unwed 12 Betty Rose BLANEY 12 Edith L BLANEY + Martha Elizabeth Beck b.4Dec1916 (Boston); d.1Apr1997 (80) 12 Charles Herbert BLANEY 12 Eugene Bradley BLANEY 12 George Nelson BLANEY 12 Richard Lawrence BLANEY 12 Arthur Eugene BLANEY 12 Frederick Albert BLANEY 12 Raymond Vincent BLANEY 12 Mary Louise BLANEY 12 Paul Alfred BLANEY 12 Donna Marie BLANEY 12 Leo James BLANEY 11 Child BLANEY b.4Dec1917 (Boston) stillborn dau. 11 George Nelson Blaney b.13May1921 (Randolph, MA) d.18Jul1985 (64) (Winthrop, MA) + Lottie Howell b~1Dec1923 (Loretto, TN); d.31Jul1999 (75) (Ayer, MA) 12 Lottie Marie BLANEY 12 George Nelson BLANEY 12 Donald Earl BLANEY 12 Robert Charles BLANEY 12 Lawrence Wayne BLANEY +(2) ___ 11 Phyllis BLANEY 10 Marie Ernestine BLANEY b.19Feb1887; d.14Jul1889 (2) (both Boston) 10 Choate I BLANEY b.14Jan1889; d.2Jan1890 (11/12) (both Boston) 10 Choate BLANEY b.24Dec1888 (Boston) 10 Florence Louise BLANEY b.5Jul1890 (Boston); d.19Nov1968 (78) (Braintree, MA) + Clarence Payne [5 children] 9 William Wheeler BLANEY b.11Mar1847 (South Boston); d.25May1927 (80) (Boston) "lobar pneumonia" + Caroline "Carrie" Townley b.20Oct1851 (Newark, NJ); d.31Dec1908 (57) (Boston) 10 Anna BLANEY 10 William Irving BLANEY b.22Nov1870; d.28May1897 (26) (Boston) + Elizabeth Mary Diekmeier b.15Mar1873 (Boston) 11 William Henry BLANEY b~21Apr1894 (Boston) + Jessica Spencer Marshall b.14Aug1894 (Boston) 12 William Henry BLANEY b.13Dec1916 (Boston); d.22Mar1989 (72) (Northport, NY) + Myra C Hornish 13 Lauren Elizabeth BLANEY 10 Sarah Caroline BLANEY b.19May1872 (Boston); d.1920 (48) + Edwin R Brackett b~1871 (MA); d.1920 (49) 10 Seth Chandler BLANEY b.17Dec1873; d.19Aug1874 (8/12) (Boston) "hydrocephalus" 10 Charles Lansing BLANEY b.14May1875; d.1Jan1879 (3) (both Boston) 10 Jennie Arabell BLANEY b.15Aug1876; d.26May1880 (3) (both Boston) 10 Grace Louisa BLANEY b.30Oct1877 (Boston) 10 Emma L BLANEY b.14Apr1879; d.24Nov1879 (7/12) (both Boston) 9 Cyril Chandler BLANEY b.17Jul1849 (South Boston) d.5Apr1918 (68) (Boston) "lobar pneumonia" +(1)Ellen "Ella" Frances StanyanStanion b.1853 (New Boston, NH) d.9Jan1891 (38) (Boston) 10 Myrtie May BLANEY b.26Feb1870 (Boston); d.18Mar1937 (67) + George L GRAMER b.1Sep1866 (Boston); d.26Sep1954 (88) [2 children] 10 Abbie Ella BLANEY b.20Sep1871; d.18Nov1878 (7) (both Boston) "Diphtheria" 10 Mina Isobel Elizabeth BLANEY b.11Jul1873 (Boston); d.15Feb1937 (63) (Santa Monica, CA) + Frank C ROGERS b~1869 (Boston) + (relationship) Otis Emerson Dunham b.12Oct1876 (Beverly MA) [3 children] 10 Emily Louisa BLANEY b.30Nov1875; d.9Nov1878 (2) (both Boston) 10 Walter I BLANEY b.14Nov1877 (Boston); d.16Nov1878 (1) (Boston) 10 Eunice Caroline BLANEY b.1Nov1878 (Boston) d.25Dec1904 (26) (Brookline" "tubo-ovaritis" + Bertram A Williams b~1877 (Revere, MA); d.1937 (60) 10 Cyril Arthur BLANEY b.11Nov1879 (Dorchester, MA); d.18Jan1956 (76) (Groton, MA) + Florence Edith POND b~8May1887 (Natick, MA); d.27Mar1955 (67) (Lowell, MA) 11 Genevieve Louise BLANEY b.18Feb1912 (Wesford, MA) d.1Dec2000 (88) (Ayer, MA) + Charles Otis PALMER b.9May1907 (Peabody, MA) d.9Jul1969 (62) (Boston) 11 Inez Claire BLANEY b.14Oct1913 (Westford, MA); d.6Jun1986 (72) (Lowell, MA) + James Albert DORSEY b.2Jan1914 [1 child] 11 Cyril Chandler BLANEY b.1Sep1915 (Westford, MA); d.14Sep1991 (76) (Nashua, NH) + Anne DENISEVICH 12 Cyril BLANEY 12 Barbara Ann BLANEY 10 Albert F BLANEY b.7Jan1882; d.16Aug1882 (7/12) (both Boston) 10 Ella Frances BLANEY b.2Jul1883 (Boston); d.9Sep1966 (83) (Los Angeles, CA) + Alfred Longfello BENSHIMOL b.27Feb1885 (Cambridge, MA) d.17Aug1950 (65) (Los Angeles, CA); [1 child] 10 Percy Chandler BLANEY b.3Apr1885 (Boston) d.31Dec1956 (71) (Quincy, MA) + Esther Eunice GALE b.21Jan1891 (Boston); d.23Nov1965 (74) (Cohasset) 11 Dorothy Helen BLANEY b.29Aug1910 (Boston) d.26Sep1990 (80) (Quincy) + Leo Augustine Mallett b.20Jun1909 (Digby, Nova Scotia) d.29May1985 (75) (Braintree, MA) [4 children] 11 Esther Eunice BLANEY b.6May1913 (Boston); d.1957 (44) + Arthur Lean CLARK b.12Apr1908 (Cohasset); d.26Apr1993 (85) 11 William Gale BLANEY b.4May1916 (Boston) d.1Jul1940 (24) (Laconia, NH) "motorcycle accident injuries" + Blanche Chapman FOX 12 Jean Blanche BLANEY 12 William Gale BLANEY 12 Robert Chapman BLANEY 11 Richard Chandler BLANEY b.23Nov1922 (Quincy); d.1957 (35) 10 Harriet Marion BLANEY b.24Mar1887; d.20Jun1964 (77) (both Boston) 10 Florence Clare BLANEY b.December 21, 1888 (Boston) d.Jan1974 (85) + Frank Herbert LORING b.31Jan1887 (Boston) [1 child] +(2)Rose Isabel METCALF b~1877; d.1927 (50) (both Boston) 9 Abbie Anna BLANEY b29Sep1855 (South Boston); d.1934 (79) + James Franklin BOURNE b.Oct1847 (Dedham, MA); [4 children] 9 Osgood Chandler BLANEY b.20Jan1860 (South Boston, MA); d.4Dec1937 (77) (Boston, MA [Roslindale]) + Eleanor KIESER b.9Nov1862; d.13Feb1935 (72) (both Boston) 10 Abbie Ella BLANEY b.2Feb1883; d.3Jul1883 (5/12) (both Boston) 10 Mabel Lena BLANEY b.11May1884; d.6May1886 (both Boston) 10 Alice Caroline BLANEY b.21May1886; d.11Jan1890 (3) (both Boston) 10 Walter Clifford BLANEY b.14Sep1892 (Boston) d.27Nov1949 (57) (Searsmont, Maine) + Hazel Emley WALTZ b.6Jan1903 (Boston); d.16Jun2000 (97) (Rockland, Maine) + Mae CONKLIN (not married) b~15Mar1892 (New Haven, CT); d.10Oct1950 (58) (Provincetown, MA) 11 Child BLANEY 11 Roy Conklin BLANEY b19Dec1922 (Boston); d.1999 (77) (Boothbay Harbor, Maine) + Anne PERISHO b.6Aug1931 (Lansdowne, PA); d.2Mar2001 (69) (Bath, Maine) 12 Aaron BLANEY 12 Joan BLANEY 12 Eben BLANEY 8 Harriet BLANEY b~1822 + Charles H BLANCHARD 8 Margaret P BLANEY b~1824 (Maine); d.26May1893 (69) + Henry BOOTHBY b.14Jun1822 (Limerick, Maine); d.1895 (age73) [11 children] 7 James Mears BLANEY b.26Aug1791 (Roxbury, MA); d.31Mar1880 (88) (Brookline (Boston), MA) + Mary BEEMAN b.May1792; d.15Sep1874 (82) (Brookline) 8 William BLANEY b~Aug1819; d.31Jan1858 (38) (both Boston, MA) 8 Mary BLANEY b~Feb1826; d.7Feb1868 (42) (both Boston, MA) + Moses Field FOWLER b~1819; d~7Dec1889 (70) 8 Emma Corinna BLANEY b.31Mar1829; d.16Sep1910 (81) (both Brookline) + Edward Sereno DANE b~1830; d.9Apr1906 (76) (Brookline) [2 children] 7 Samuel BLANEY b.9Apr1793; d.17Apr1793 (8 days) 7 Maj. George BLANEY b.16November1796 (Roxbury); Graduated US Military Academy (West Point) 1815 Served in Corps of Engineers till 1835 d.15May1835 (38) (Smithfield, N.C. (Sunstroke) +(1)Margaret Alexander PEARSON b.8Mar1802 (Albany, NY); d.31Aug1823 (21) (West Point, NY) +(2)Mary Elizabeth Dagworthy BIDDLE b.Apr1805 (Philadelphia, PA) d.4Sep1879 (74) Carlisle, PA 8 Margaret Pearson BLANEY b.19Mar1827 (Philadelphia, PA) d.28Jul1827 (4/12) (Carlisle, PA) 8 Valeria BLANEY b.9Jul1828 (Smithville, NC); d.6May1900 (71) 8 Catherine Biddle BLANEY + Washington L ELLIOT 8 William Biddle BLANEY b.26Sep1832 (Smithville, NC); d.18Feb1862 (29) (Benton Barracks, MO) 8 Lydia Spencer BLANEY b.28Nov1834 (Smithville, NC); d.28June1914 (79) (Fort Riley, KA) + William Bartlett LANE [4 children] 6 Samuel BLANEY b.6Dec1759; d.2May1826 (66) (both Roxbury, MA) + Anna "Nancy" CURTIS b.18Jun1764; d.23Feb1848 (83) (both Roxbury) 7 Charles Pierpont BLANEY b.2Jan1797; d.9May1860 (63) (both Roxbury) 7 Anna Heath BLANEY b.30Mar1800 (Roxbury, MA); d.26Dec1878 (78) (Boston) 6 Mary BLANEY b.1May1762; d.8Oct1805 (43) (both Roxbury, MA) + George Zeigler b.1759 (Germany); d.29Jan1819 (60) (Roxbury, MA) [7 children] 6 Joseph BLANEY b.23Jun1764 (Roxbury, MA); d.1802 (38) (Boston Harbor) "drowned" + Elizabeth McLEOD 7 Elizabeth BLANEY b.6Apr1786 (Boston); d.1844 (58) + David WHITE 7 Joseph BLANEY b.12Sep1788 (Boston); d.1835 (47) (Charleston, S.C.) 7 Mary BLANEY b.16Jan1792 (Boston); d.1844 (52) 7 Mary Gridley BLANEY b.27May1790 (Boston); d.19Jun1790 (23d) 7

Benjamin BLANEY b.20Sep1794; d.10Oct1857 (63) [1106] [1106] (both Boston, MA) Mason by trade; Representative from Boston "to the legisture" 1853-4 Prominant member of Fire department (gained "handsome testimonial" for "efficiency at the famous Becon Street Fire". Patentented a domestic oven 1834 (signed by President Andrew Jackson +

Abigail Miller BOWMAN b.1Dec1794 (Milton, MA); d.29Dec1873 (79) (Boston, MA) "apoplexy" 8 Mary Bowman BLANEY b.1818; d.1891 (73) (?Lake George, FL) 8 Sarah Tarlton BLANEY b.4Nov1819 (Boston); d.31May1867 (47) (Bedford, MA) "epilepsy" 8

Henry BLANEY b.3Jan1822 (19 Common St., Boston); d.2Feb1896 (74) (Salem. MA) Clerk of the First Corps of cadets, M.V.M. and a Mason from 1843 (Knight Templar at death). Life member of Massachusetts Horticultural Soc. & member Bostonian Soc, Voyaged to China [1106] + Mary French Wood b.22Dec1833 (Boston, MA); m.14Mar1854; d.6Jan1912 (78) (Salem, MA) 9 Henry R BLANEY b.29Jan1855 (Dedham, MA); d.18July1913 (58) (Yokohama, Japan) Wrote "Photogravure" 1895 [1109] + Helen Stevens (Greenwood) Farley b.24Jan1849 (Ipswich, MA) d.6Aug1900 (51) (Ipswich) 9 Emma Louise BLANEY b.8Mar1857 (Brookline, MA); d.24Dec1918 (61) (Salem, MA) + Ross Sterling Turner b~1848 (Westport, NY) d.12Feb1915 (67) (Nassau, Bahamas) [3 children] 9

Dwight BLANEY b.24Jan1865 (Brookline, MA); Trained as an architect, then became one of the first American Impressionist painters. Collected American Antiques and founded of the Walpole Society A naturalist (with 2 species named after him) and archeologist. d.2Feb1944 (79) (Boston, MA) +

Edith White Hill b.2Sep1868 (Roxbury, MA) Heiress to the Eastern Steamship Co. d.8Dec1930 (62) (Boston) 9 Margaret "Meg" BLANEY b.16Jun1898 (Ironbound Island [Winter Harbor], Maine; d.15Oct1959 (61) (Santa Barbara, CA) 9 John BLANEY b.23Nov1900 (Boston) d.7Jun1919 (18) (Marblehead) "pulmonary TB" 9 David BLANEY b.19Mar1902 (Boston); d.26Jul1989 (87) (Bar Harbor, Maine) + Marjorie ("Midge") Leatherbee b.12Jul1906 (Boston) d.16Jun1993 (86) (Daleville, VA) 10 Joy BLANEY 10 Edith BLANEY 10 John BLANEY b.31Aug1934 (Newton, MA); d.21May1965 (30) 10 Benjamin BLANEY 9 Robert ("Rob") BLANEY b.20Jul1903 (Ironbound Island [Winter Harbor], Maine); d.18Aug1926 (23) (Folkestone, England) 9 Elizabeth Hill "Libby" BLANEY b.15Feb1905 (Boston); d.7Jan1995 (89) (Bar Harbor, Maine) + George Frank Cram b~1904 (Newton MA); d.16Feb1971 (67) (Boston) 9 Richard ("Richie") BLANEY b.6Jun1907 (Boston) d.31Aug1962 (55) (Bar Harbor, Maine) + Elizabeth ("Elsbeth") Lyle b.12Nov1904 (South Carolina) d.11Jul1976 (71) (Bangor, Maine) 10 Richard BLANEY 9 Percivale BLANEY b.27Aug1868 (Brookline, MA) d.7May1875 "cholera" 8 Abby BLANEY b.1824 (Boston) + Charles Stevens [2 children] 8 Caroline "Carrie" BLANEY b~24Feb1826; d.21May1907 (81) (Framingham, MA) 8 Joseph BLANEY b.3Dec1829 (Boston); d.14Sep1865 (35) (Shellharbour, NSW, Australia) + Margaret RYAN b.18May1835 (Campbelltown, NSW, Australia) d.23Jul1896 (61) (Ashfield, NSW, Australia) 9 George BLANEY b.29May1858 (Jamberoo, NSW) + Ann Perkins b.7Apr1862 (Terry's Meadows, NSW) 10 Joseph BLANEY b.1883 (NSW) 10 Annie L BLANEY b.1885 10 Arthur T BLANEY b.1886 (NSW) 10 George A BLANEY b.1887 (NSW) 10 Margaret F BLANEY b.1889 (NSW) 10 Mary BLANEY b.1892 (NSW) 10 Horace BLANEY b.17Jan1894 (Berry, NSW); d.May1981 (87) (NSW) + ___ 11 Linda BLANEY 11 Horace BLANEY 11 Thelma BLANEY 11 Barry Graham BLANEY 10 William J BLANEY b.1896NSW 9 Caroline Rosamond BLANEY b.23Apr1860 (Shellharbour, NSW) d.22Oct1938 (78) (Sydney, NSW) + George Butler Wilson b.1858 (Buckland, Vic, Australia) 9 Margaret BLANEY b.5Apr1862 (Shellharbour, NSW); d.18Nov1928 (66) (Mosman, NSW) + Thomas Washington Gillett b.3May1861 (Parramatta, NSW) d.17Aug1902 (41) (Ashfield, NSW) [5 children] 9 Sarah BLANEY b.8Jul1863 (Shellharbour, NSW); + Edwin Michael White b.22Dec1851; d.14Jan1909 (both NSW) [7 children] 9 Horace BLANEY b.10Apr1865 (Shellharbour, NSW); d.4Apr1902 (36) (Camperdown, NSW) + Matilda Mary Moore b.27Jun1870 (London, England); d.30Oct1948 (age78) (Millers Point, NSW) 10 Rose Clara BLANEY b.29Dec1895 (Paddington, NSW); d.27Feb1968 (72) (Kogarah, NSW) + Emmanuel Isaac Polglase b.11March1895 (Bourke, NSW); [3 children] 10 May Matilda Margaret BLANEY b.8May1898 (Paddington, NSW); d.15Dec1965 (67) (NSW) 10 Horace Joseph BLANEY b.7Apr1901 (Paddington, NSW); d.6May1937 (36) (Mascot, NSW) 8 Susan Elizabeth BLANEY b.1830; d.13Jan1906 (76) (both Boston) + James T Bowman b.Jun1837; d.14Jan1902 (64) (both Boston) [3 children] 8 Harriet Low BLANEY b.1832 (Boston) + Lyman Davenport b.26Jun (Milton MA) [4 children] 8 Emma Louise BLANEY b.28May1834 (Boston); d.1835 8 Margaret Low BLANEY b.28May1834 (Boston); d.13Nov1897 (63) (Reading, MA) "apoplexy" 8 George BLANEY b.1835 (Boston); d.16Feb1898 (63) (Long Island, NY) 8 Horace BLANEY b.1839 (Boston); d.1894 (55) + Mary Metcalf Barnes b.25Mar1839 9 Caroline L BLANEY b.24Mar1868 (Waltham, MA) 7 George Zeigler BLANEY b.3Jan1797 (Boston); d.2May1797 (3/12) 7 Lydia Tuckerman BLANEY b.18Dec1802 (Boston, MA) d.25Dec1883 (81) (Milton, MA) + Leonard B Morse b.5Jul1793; d.29Apr1884 (90) (both Weston, MA) [7 children] 6 Benjamin Sharpe BLANEY b.29Oct1766 (Roxbury, MA) d~14Dec1816 (age50) (Smithville, NC) + ___ 7 William E BLANEY 7 Mary BLANEY b~1786 7 Nancy BLANEY 7 Caroline BLANEY 7 George BLANEY 6 Abigail BLANEY b.26Mar1768 (Roxbury, MA) + Asa Hunting b.24Aug1759; d.Mar1834 (74) (both in Roxbury, MA) [2 children] 6 Henry BLANEY b.1Aug1770 (Roxbury); d.27Sep1844 (74) (Cambridge) +(1)Sarah Speer b~1771; d.14Jan1793 (22) (Boston, MA) +(2)Caroline BLANEY b.24Jun1772 (Roxbury); d.8Apr1855 (82) (Boston, MA) dau of Aaron BLANEY and Eunice Segar 7 Mary Zeigler BLANEY b.1801 (Maine); d.22Jun1835 (34) (Cambridge, MA) + George Washington Perrin b.25Oct1789; d.21Nov1867 (age78) [i child] 7 Caroline BLANEY b.1803; d.19Mar1834 (age31) (Cambridge, MA) 7 Eunice BLANEY b.1807; d.9Jan1836 (age29) (Boston, MA) 7 Margaret BLANEY b.1809; d.21Jul1835 (age26) (Boston, MA) 7 Henry BLANEY b.1811; d.20Nov1814 (age3) (Boston, MA) 7 George Washington BLANEY b.1814; d.16Dec1814 (36/52) (Boston, MA) 7 William BLANEY b.31Aug1819 7 Henry BLANEY b.3Jan1822 6 John BLANEY 5 Lydia BLANEY b.5Sep1732 (Lynn, MA); d.5Oct1796 (64) (Roxbury, MA) + William Gridley b.6May1732; d.10Dec1786 (54) (Roxbury, MA) [11 children] 5 Elizabeth BLANEY b.23Nov1735 (Lynn, MA) 5 Andros BLANEY b.15Nov1737 (Lynn MA) 5 Elizabeth BLANEY d.2Feb1802 (Roxbury, MA) + Thomas Nolen b.1734; d.10Jan1785 (51) [4 children] 5 Mary BLANEY + Samuel Bowen b~1746; d.14Dec1802 (age56) 5 Aaron BLANEY b.21Aug1745 (Chelsea, MA) d.1Oct1824 (79) (Bristol, Maine) + Eunice Segar b.17Jun1738 (Concord, MA); d.29Apr1827 (88) (Boston) 6 Arnold BLANEY 6 Caroline BLANEY 6 Aaron BLANEY b.18Apr1776 (Roxbury, MA); d.31Jul1834 (58) (Bristol) + Betsey Dennis b.14Apr1783 (Nobleboro, Lincoln Co., Maine) d.16Dec1866 (83) (Bristol) 7 Arnold BLANEY b.30Sep1804 (Bristol); d.22Dec1878 (74) (Bristol) + Nancy Hunter b.3Jun1807; d.18Aug1887 (80) (both Bristol) 8 Henry Hunter BLANEY b.25Nov1835; d.10Dec1910 (75) (Bristol) 8 William Osgood BLANEY b.16Jul1841 (Bristol); d.12Nov1910 (69) (Boston) + Loella Elizabeth Huston b.5Apr1840 (Bristol); d.13Mar1920 (79) (Boston) 9 Charles Crosby BLANEY b.20May1868 (East Boston); d.7Dec1951 (83) (Newton, MA) + Mabel Augusta Wood b.19Oct1869 (Worcester, MA) d.11Nov1961 (92) (Newton) 10 Carolyn "Crack" BLANEY b.12Dec1901; d.18Dec1972 (71) (both Newton) + George Woodard Mandell b.6Mar1902; d.22Feb1975 (72) (both Newton) [2 children] 10

William ("Bill") Osgood BLANEY b.15Sep1905; d.14June1985 (79) (both Newton) Former USGA Handicap Chairman + Rosamond ("Roz") Palmer b.23July1908 (Haverhill, MA); d.7Jan1980 (71) (Newton, MA) 11 Charles Crosby BLANEY 11 William Osgood BLANEY 9 Louise Houston BLANEY b.8Aug1872 (Charlestown, MA); d.15Sep1902 (30) (Boston) 8 Mary E BLANEY b.27Mar1847 (Wiscasset, Maine); d.19Jan1919 (71) (Bristol) 7 Eunice D BLANEY b.29Aug1807 (Bristol, Lincoln Co., Maine) d.1Oct1837 (30) (Bristol), Lincoln Co., Maine + John Fitch b~1802; d.19May1850 (48) (Bristol) [1 child] 7 Susannah Kinsman BLANEY b.6Sep1809; d.1Oct1837 (28) (Bristol) 7 Betsey BLANEY b.5Jan1813; d.d.30Apr 1832 (19) (both Bristol) 7 Aaron BLANEY b.28Sep1815 (Bristol); d.22Feb1862 (46) (Pepperell, MA) + Hannah Farrar Rogers b~1824 (Boston) 7 David Dennis BLANEY b.8Dec1817; d.30Jun1837 (19) (both Bristol) 7 James Monroe BLANEY b.13Dec1819; d.20Oct1847 (27) (both Bristol) 7 Caroline BLANEY b.21Oct1822 (Bristol); d.14Feb1838 (15) (Cambridge, MA) "galloping consumption" 7 Henry BLANEY b.11Dec1824; d.23Jun1828 (3) (both Bristol) 6 Lucinda BLANEY b.19Jun1778 (Roxbury) 6 Ambrose BLANEY b.23Nov1779 (Boston) d.24Sep1855 (75) (Roxbury, MA) + Sarah Whitcomb b.3Apr1781; d.19Jul1814 (33) (both Bolton, Worcester Co., MA) 7 Sarah BLANEY b.1Mar1811; d.25May1899 (88) (bth Boston) 7 Caroline Lavinia BLANEY b.26Dec1812; d.8May1834 (21) (both Boston) + Ann Mears BLANEY b.13Mar1784 (Roxbury, MA) 7 George Arnold BLANEY b.22Mar1821 (Boston) d.27Nov1884 (63) Woburn, MA + Hannah Margaretta Cazeneau b.15Mar1821 (Roxbury, MA); d.1895 (74) (Winchester, MA) 8 George Andrew BLANEY b.16Apr1853 (Roxbury, MA); d.12Sep1903 (50) (Newton, MA) + Ella Amanda Fowle b.14Aug1851 (Woburn, MA); d.26Sep1914 (63) (Newton, MA) 9 Marguerite Germaine BLANEY b.15Feb1884 (Boston, MA); d.9Nov1886 (2) (Swampscott, MA) 9 George BLANEY b.9Oct1886 (Swampscott, MA); d.19Dec1969 (83) (Boston) + Edith Cooper Erskine b.8Aug1889; d.2Jun1972 (82) (Barnstable, MA) 10 Child BLANEY b.22Apr1927 (Lowell, MA) stillborn son 10 Alice Elizabeth BLANEY 10 Marguerite Erskine BLANEY possibly the Marguerite who married + ?Allan Charles "Tommy" HARRINGTON b.15Jan1895 (Middleton, Washington Co.,, Oregon; m.5Nov1917; d.3Jun1936 (NY) MVA; Seaman, gas fitter [1 child] 9 Elizabeth BLANEY b.14Jan1890 (Swampscott, MA); d.8Mar1951 (61) (Melrose, MA) 8 Catherine Mears BLANEY b.4Apr1856; d.13Nov1860 (4) (both Roxbury, MA) 8 Hannah BLANEY b.13Nov1859 (Roxbury, MA); d.Apr1933 (73) (Boston) 8 Lucy Jewett BLANEY b.13Mar1862; d.24Jun1865 (3) (both Roxbury, MA) 7 Henry Sewell BLANEY b.10Apr1823 (Boston); d.25Dec1903 (80) (Newton, MA) + Sarah Woodman b.2Nov1824; d.29Mar1913 (88) (both Boston) 8 Emily Frances BLANEY b.10Aug1851 (Dorchester, MA); d.3Nov1942 (91) (Hingham, MA) 8 Arthur Henry BLANEY b.17Mar1854; d.24Apr1904 (50) (both Dorchester, MA) + Grace Richardson b~1867 (Boston); d.Apr1904 (37) + Elizabeth Cary (unmarried) 9 Lillian Carey BLANEY b.23Nov1882 (Boston). + Richard Goehring 8 Annette Sewell BLANEY b.11Dec1864 (Dorchester, MA); d.10April1948 (83) (Hingham, MA) 7 Augustus BLANEY b.12Jul1825; d.2Mar1904 (78) (both Boston) 7 Ann Catherine BLANEY b.25Oct1827 (Boston) d.10Aug1912 (84) (Worcester, MA) 6 William BLANEY b.27Aug1782; d.15May1862 (79) (both Boston, MA) + Sally Avis Leach b.20Aug1786 (Boston); d.1Aug1860 (73) (Dorchester, MA) 7 William Henry BLANEY b.2Aug1818 (Boston); d.22Jul1862 (43) (Waldoboro, Lincoln Co., Maine) + Adeline Wotton b.1829 (Friendship, Maine); d.25Mar1907 (78) (Waldoboro) 8 Harriet "Hattie" A. BLANEY b.1848 (Waldoboro); d.14Oct1905 (57) (Lewiston, Maine) "meningitis" + Harmon Dill [2 children 8 Charles W BLANEY b.1849; d.19Oct1907 (58) (both Waldoboro) "alcoholism with heart failure" 8 Walter E BLANEY b.1851 (Maine); d.14Sep1892 (41) (Waldoboro) + Lilla M Hall b.29Dec1855 (Nobleboro, Maine); d.22Oct1945 (89) (Waldoboro) "heart disease" 9 Marcia Ella BLANEY b.22May1884; d.12Jan1955 (70) (Waldoboro) 8 Ella Frances BLANEY b.6May1854 (Waldoboro); d.21May1932 (78) (Waltham, MA) 8 Carrie E BLANEY b.1856 (Waldoboro, Lincoln Co., Maine) d.4May1936 (80) (Waltham, MA). + Stillman Young 7 Caroline B BLANEY b.6Apr1820 (Boston); d.16Aug1855 (35) (Dorchester, MA) 7 Harriet BLANEY b.19Aug11821; d.30Jun1885 (63) (both Boston) 7 Sarah C BLANEY b.18Dec1823; d.22Mar1880 (56) (both Boston) 7 Charles BLANEY b.3Feb1830 (Boston); d.23Dec1893 (63) (Cambridge, MA) + Antoinette Hamilton Lamson b.5Sep1836 (Charlestown, MA) d.23Jan1912 (75) (New York City) 8 Charles Priaut BLANEY b.14Mar1868 (Dorchester, MA); d.1951 (83) + Helen Beebe b.19Oct1882 (Rahway, NJ); d.5Jan1969 (86) (Natick, MA) 9 Charles Lamson BLANEY 9 Ann Shotwell BLANEY b.10Jul1917; d.1940 (23) 9 Sally Leach BLANEY b.1919 died on day of birth 8 Samuel Lamson BLANEY b.27Aug1871 (Charlestown, MA) d.21Apr1883 (11) (Boston) "meningitis" 7 George L BLANEY b.27Feb1827; d.3Oct1862 (35) (both Boston, MA) 4 Nehemiah BLANEY b.1712 (Lynn, MA); d<4.Oct1733 (estate admin approved) Purchased Drug Store (Pharmacy) Son of Joseph BLANEY and Abigail Andrews 4 Abigail BLANEY b~1715; d.28Jul1764 (age49) (both Lynn, MA) Dau. of Joseph BLANEY and Abigail Andrews + Ralph Lindsey b.2Aug1712 (Lynn, MA) [10 children] 3 Elizabeth BLANEY b.17Aug1673 (Salem, MA) 2nd dau. of John BLANEY (c1630-1715) & Hannah KING (1606-76) +(1)JonaThan FELT of Salem, anchorsmith; d.1702 4 Hannah FELT b.20Apr1702 +(2)John TAYLOR of Salem, fisherman 4 Mary TAYLOR 4 John TAYLOR b.9Dec1712 4 William TAYLOR b.9Dec1712 3 Penelope BLANEY 3rd dau. of John BLANEY (c1630-1715) & Hannah KING (1606-76) 3 Sarah BLANEY 4th dau. of John BLANEY (c1630-1715) & Hannah KING (1606-76) + Robert BUFFUM m.20Dec1703 4 Sarah BUFFUM b.4Oct1704; d.22Nov1704 4 Sarah BUFFUM b.4Oct1706 + Daniel NEEDHAM 4 James BUFFUM d~1766 +(2)Sarah (Sallie/Lallie) POWELL née MERRILL (2nd wife of John Blayney c.1630-1715) b.14Oct1650 (Haverhill, Essex, MA) (1643); m.26Jun1672 [1115] (1660); d.18Oct1694 age 51 (all Charlestown MA) widow of John POWELL m.20 May 1667 (Charlestown); d.Jun1668, Charlestown, MA [1 child, John Powell b.1Mar1668/9. [Dau of Manus SALLEE b.1610 (Southwark, Surrey England) d.4May1650 (Charlestown, MA) and Sarah HEPBURNE b.1620; d.4May1650 or Abraham MERRILL and Abigail POWELL] 3 Susanna(h) BLANEY b.13Jun1673 (Charlestown); d<30Mar1711 +(1)Samuel FOWLE b.17Sep1674 (Woburn, MA); m~1695; d.1699-1704 at sea [3 children] [son of James FOWLE and Abigail CARTER] +(2)Thomas or John COOK d<28Oct1705; m.27Jun1704 (Charlestown) 3 Sarah BLANEY b.17Jul1675 (Charlestown, MA); d.20Jun1713 (Charlestown, MA) + John EDMONDS b.21Aug1671; m.1Nov1693 (Charlestown, MA) son of John and Hannah EDMONDS 4 Mehitabel EDMONDS b.27Feb1695/6 (Lynn, Essex Co., MA) 3 Anna BLANEY b.25Oct1677 (Charlestown, MA) + John FROTHINGHAM b.19Feb1674 (Charlestown); m.19Nov1699 son of Peter FROTHINGHAM and Mary LOWDEN. [3 children] 3 Mary BLANEY b.29Mar1679 (Charlestown, MA); d.2Apr1743 (Charlestown, MA) 3 Rebecca BLANEY b.1681 (13Feb or 13Dec) (Charlestown); d.4Mar1761 (Duxbury, Plymouth, MA) + Thomas PHILLIPS b.Dec1679 (Taunton, Bristol, MA); m.31 Dec 1702 in Boston ?dv. [Sub. m. Judith BURGESS b.Dec1679 (Taunton); m.4Dec1729 (Sandwich, Barnstable, MA)] son of Samuel Phillips and Mary Cobb d.17Dec1759 (Duxbury, Plymouth, MA) [Seven children] 3 Katherine BLANEY b.15Feb1682 (Charlestown, MA) 3 John BLANEY b.1Aug1686 (Charlestown, MA); d.1715 3 Lydia Elizabeth BLANEY b.25Dec1692 (Salem, Essex, MA); d~1790 + Walter PHILLIPS b.14Sep1684 (Braunton, Devon, England); m.17Oct1713 (Salem, Essex, MA) +(3)Elizabeth PURCHIS (PURCHASE) née ANDREWS (MACKWORTH) (3rd wife of John Blayney c.1630-1715) b.1633 (England); m.Nov1678 (Lynn) [1115]; ?dau of Samuel & Jane Mackworth Widow of Thomas PURCHASE (1576-1678) of Lynn, subsequently or previously m. to Richard Pike
---
---
[4] Hugh Blaney (c.1797-1853) emigrated from Ireland to
New Gersey - New York area Head of the New Gersey - New York Blaney Family

1 Hugh BLANEY b~1797 (Ireland); d.25Oct1853 (Griggstown, Somerset, NJ) [1093]
 + Elizabeth PERRINE m.3Apr1828 (Somerset Co. NJ)
  2 Daniel BLANEY b.25Mar1829 (Franklin Twp., Somerset, NJ); d.27Dec1887 (Franklin Twp.)
    Occ. Canal Hand
   + Susan HUNT b.4Feb1828; d.11Oct1877
    3 Elizabeth BLANEY b~1850 (NJ); ob.
    3 Daniel BLANEY b~1852 (NJ); ob.
    3 Caroline BLANEY b~1856 (NJ); ob.
    3 John BLANEY b~1858 (NJ); ob.
    3 Anna BLANEY b~1860 (NJ); ob.
    3 George BLANEY b.19May1863 (Franklin Twp., Somerset, NJ); ob.
    3 Charles BLANEY b~1865 (NJ); ob.
    3 Ella H BLANEY b~1868 (NJ); ob.
    3 Abraham BLANEY b.Jun1869 (NJ); ob.
    3 Male BLANEY b.17Mar1853 (Franklin Twp., Somerset NJ); ob.
    3 Female BLANEY b.09Nov1854 (Franklin Twp.); ob.
    3 Male BLANEY b.07Mar1861 (Franklin Twp.); ob.
  2 Hugh Blaney b~1831; d.>1850.
  2 Charles BLANEY b~1833; d>1880 & <1900)
   + Catherine ___ b.Jan1848 (NJ); m.?19May1864
    3 Mary BLANEY bJul 1864 (NJ); ob.
    3 Hugh BLANEY, b. Nov 1867 (NJ); ob.
    3 Catherine BLANEY b~1868 (NJ); d<1900.
    3 Charles BLANEY b~1872 (NJ); d<1900.
  2 Catherine Maria (Marie) BLANEY b.4Jan1836 (NJ); d.17Sep1884 (Rocky Hill, Somerset, NJ)
   + Matthew DENNIS [1094]
    3 George DENNIS b.Jan1868 (NJ); d.30Jan1948 (Philadelphia, PA)
  2 John BLANEY b.10Aug1839 (Somerset Co. NJ); d.29Jan1908 (Montgomery Twp, Somerset Co.)
   + Sarah ROBINSON b.Feb1845 (Rocky Hill, Somerset, NJ); m~1865;
     d.19Apr1925 (Perth Amboy, Middlesex, NJ)
     Remarried Victor BERNARD after John's death
     dau. of Joseph ROBINSON and Abigail
    3 Elizabeth R. Lillie BLANEY b.24Jun1866 (NJ); d.18Feb1870 (Philadelphia PA)
    3 Arthur D. C. BLANEY b.27Jul1868 (PA); ob.
    3 Ida Sarah BLANEY b.10Mar1871, d.1957
     + William ZOGG m.1886
      4 Seven ZOGG children (Johanna, Ernest, Elizabeth, Herbert, Dorothy, Florence,
        and Permelia.
    3 Walter BLANEY b.23Aug1872 (Griggstown, Somerset, NJ); d.20Jun1940 (Hopewell Twp., Mercer, NJ)
     + Maggie HOUSEL b.Dec1870 (NJ); m~1898
      4 Lillie M BLANEY b~1904 (NJ); ob.
      4 Paul A BLANEY b.30Mar1909 (NJ); d.29Jun1998
       + Pearl ___
        6 Margaret BLANEY 
3

Sarah Pamilla (Permelia) BLANEY b.5Apr1875 (Piscataway Twp., Middlesex, NJ); d.19Feb1926 (Princeton, Mercer, NJ) + Harry Stryker van HORN b.19Mar1874 (Sommerville, NJ); m.23Dec1896 (Rocky Hill, Montgomery Twp., Somerset, NJ); d.4Apr1942 (Princeton, Mercer Co., NJ) son of Jonathan R van HORN and Mary Elizabeth STRYKER 2nd marriage to Katherine J Knudsen 4 Four children (Howard Walter, Christian Belmont, Edward Delos and

Mary Kipsey van HORN) 3 William James BLANEY b.14Oct1877 (Griggstown); d.Jan1963 + Goldie BASTEDO m~1904 4 Carlton BLANEY b~1905 (NJ); ob. 4 Calvin W BLANEY b.25May1907 (NJ); d.Dec1992 (NJ) 3

Bernard L BLANEY b.21 May 1879, d<1926 (Cranford, Union, NJ) 2 Mary BLANEY b~1843 (NJ); d.24Mar1924 (Rocky Hill, Somerset, NJ) +(1)___ LOVE b~1864 (NJ) 3 Bernard LOVE b~1864 (NJ) ob.y, d. date unknown. 3 Charles LOVE b~1867 (NJ) d>1930 +(2)Henry COOK b.Aug1850; d<1920) 2 William James BLANEY b~1848 (NJ) d>1880.
---
---
[5] James Blaney (c.1807-79) of Co. Antrim NI, Father-in-law of
Alice Blaney née O'Neil who took the family to Boston

 1 James BLANEY, b~1807 (Co. Antrim, Northern Ireland); d.15Nov1879 (Lisnagarran, Co. Antrim)
   Possibly descended from Scots Blaneys [1108], but more probably related to the
   Blaneys in nearby Co Tyrone. Note that Cadwallader (Chadwallader) BLAYNEY (BLANEY) b.1768 (Dullaghan Co Tyrone) and
   Mary Sproule had a James Blayney in 1797 (Dullaghan, Co Tyrone)
  + Jane MARKS b~1904 (Co. Antrim); d.1Jan1904 (Lisnagarran, Co Antrim) They had eight children.
   2 Henry "White Harry" Blaney b~1841 (Co, Antrim); d.20Mar1899 (Lisnahunshin, Co. Antrim)
    +  Alice O'Neill b~1842 (Co. Antrim); d.15Sep1917 (Roxbury, Boston,MA). They had 11 children
      [dau of Henry and Mary O'Neill].
      Some children had already emigrated to the USA and after Henry's death, 
      Alice and remaining four children also emigrated (on the RMS Saxonia,
      arriving in Boston in August 1900.) 



Mary Bagwell
née Blaney[1139]

Michael Bagwell
and son Henry [1139]

unidentifies sons of Henry & Alice
?James, Neil, Thomas, Joseph or Henry [1139]

and some on this
gravestone [1139]

Rita Lane
née Blaney [1139]
3

Mary BLANEY +

Michael BAGWELL 4

Henry BAGWELL b.1914 3 James BLANEY b~1864; d.May1902 age 38 3 Neil BLANEY d. age 41 + Mary McKEOWN d.1921 4 Henry J BLANEY d.1902 3 John BLANEY b.1882; d.1950 3 Thomas Blaney b~1870; d.9July1917 age 47 3

Daniel BLANEY b.1875; d.1914 + Ellen ("Nellie") BUTLER d.1918 4

Rita Ellen BLANEY b.29May1914 (Boston, MA) + Timothy LANE m.6Mar1937 3 Joseph BLANEY b~1879 (Co. Antrim); d.1951 3 Henry BLANEY (Co. Antrim) 3

John BLANEY 2nd youngest, b.25Jul1882 (Lisnagarran, Co. Antrim) Emigrated to Boston, USA in 1902 +

Rosetta O'Hara b.1887 (Co. Antrim); m.28Jun1916 (Boston, MA). dau of Cornelius O'Hara and

Nancy McNeil John and Rosetta were Catholics despite coming from from Northern Ireland and went on to have five children all born in Boston 4

Anne ("Narni") Mary BLANEY b.20Sept1916; d.May1971 + ___ ABBOTT 5 Joanne ABBOTT 5 Janice ABBOTT 4

Henry John ("Bud") BLANEY b.23May1918; d.14Jul1992 +

Ruthie MARKHAM 4

Rosaline Helen BLANEY b.13Jun1920; m~1955; d.Apr2010 + Ralph W McKENZIE d~1971 4

Alice "Rita" BLANEY b.25Feb1922; d.10Aug1998 + Stephen M. SARDELLA (Wakefield, MA); m.12Nov1950 5 Mark SARDELLA 5 Robert SARDELLA 5 David SARDELLA 5 Daniel SARDELLA 4

Margaret Teresa BLANEY b.3Dec1925; d.1May1949 (consequences of Rheumatic Fever [1139]). 3 William BLANEY b~1884 (Co. Antrim)
---
---
[6] James Blaney (born 1810) emigrated from Ireland to
Missouri USA and New Brunswick Canada

1 James BLANEY b.23Jun1810 (Ireland)
 + Elizabeth SCOTT b.30Nov1804 (Ireland); m.18Jul1834. [1093] [1141]
  2 Margaret BLANEY b.07Oct1835 (St Andrews, Charlotte Co., NB) or (Alexander ME)
   +(1)Francis Westbrook BROWN b.15Apr1836 (Alexander ME);
     [son of Michael BROWN and Rebecca Holmes KNIGHT]
     m.17Jun1859 (Alexander ME); Farm labourer [1141]
    d.10Feb1862 [1143] (the widowed Margaret remarried)
    3 Thomas James BROWN b.10Oct1860; d.Jan1861; [1141]
    3 Francis William BROWN b.19Dec1861; d.10Feb1862 [1141]
   +(2)John McLAUGHLIN b.~1825 (Ireland); Farmer; m.1863 [1141]
    3 Six sons, James, Thomas, William, Henry, George Washington,
      and Fredrick McLAUGHLIN
  2 Thomas BLANEY b.14/17Apr1838 [1141] (St Stephen/St Andrews, Charlotte NB Can); 
    "Common laborer [1960]", "Farmer [1880]"; d.>1882.
   +(1)Sarah Adeline LYONS b.19May1839 (Alexander ME); m.31May1860 (Alexander ME); d.8Sep1862 (Washington ME) age 23
    3 William Fairmont BLANEY b.19Apr1861 [1141] (St Johns NB Canada); d.4Jul1925 (Greeley Co.)
     + Ellen Marietta GOODFELLOW b.8May1865 (Blackhawk Co.); m.5Oct1884 (Trinity Ch Greeley Co.)
       d.7May1931 (Ft Collins Co.) 
4

Laurel Sharpless BLANEY b.2Dec1885 (Greeley Co.); d.13Jan1931 (Greeley Co.), bur. Linn Grove Cem + George Washington HEDGPETH b.4Jul1879 (Bent Co); m.6Sep1904 (Greeley Co); d.15Jun1974 (Ft Collins Co) 4 Violett Fairmont BLANEY b.23Nov1891 (Greeley Co.); d.18May1912 (Ft Collins Co.) of menningitis 4 Amanda Fern BLANEY b.25Jun1895 (Ft Lupton Co.); d.26May1978 (Wichita KS) + Floyd Bernard DEVLIN m.19Sep1919 (Denver CO) 4

William Clifford BLANEY b.27Jan1902 (Greeley Co.); d.11Jan1972 (Como Co.) +

Hazel Morley HASKIN b.12May1904 (Denver CO); m.20Mar1925 in Morrison Co.); d.17Sep1978 (in Como Co.) 5 William Clifford BLANEY b.8Nov1928 (Golden Co.); d.15Oct1992 (Pensacola FL) 5 Laurel Jeanne BLANEY b.14Oct1930 (Denver CO); d.10Dec1996 (San Antonio TX); bur. Ft Sam Houston Cem, San Antonio; m.2Feb1951 (Denver CO). 5 Living BLANEY 5 Lois June BLANEY b.6Jun1938 (Denver CO); d.6Jun1938 (Denver Co.) 5 Mary Jane BLANEY b.14May1941 (Denver CO); d.20Dec2004 (Basalt CO); 8 children 3 James BLANEY b. St Johns NB Canada [? a stepbrother [1142]] +(2)Sarah Ann ROBB b.31Aug1836 (1845) (Baileyville Maine=ME); m~1868 [2nd wife of Thomas BLANEY b.Apr1838] [1140] [1141] 3 Ann(ie) BLANEY b.7/15Jul1870 (Baileyville or Alexander, ME) 3 Mary Elizabeth BLANEY b.7Jun1872 (Alexander, ME) 3 John James BLANEY b.27Apr1874 (Alexander, ME) 3 Thomas BLANEY Jr. b.13/19Mar1876 (Alexander, ME); d.1946 [1141] 3 Sarah (Sadie) Agnes BLANEY b.27Oct1878 (Alexander, ME) + Stephen Emery FROST [1140] 3 Margaret Ellen BLANEY b.21Apr1882 (Alexander, ME)
---
---
[7] Daniel Blaney descended from Capt. Edward Blayney who emigrated
to Virginia 1620. (descent from David Lloyd Blayney)

Blaneys of Delaware then Chicago, USA

 1 Daniel BLANEY b. Port Peen, New-castle co., Delaware [1101]
   [a descendant of Edward Blayney, who came from England, in the ship 
    "Bonaventure", in 1632, to James city, VA.]
  + Hester Dushayne (Du-Chene), descended from early Delaware Huguent settlers
   2 Cornelius D. Blaney
    + Mary Stidden (aka Stidham), dau of Catherine Keen b.9MAR1723/24 (Salem Co., NJ),
      m.11Nov1740 and Anders Stidden b.22NOV1716 (PA), son of Dr Tymen Stidden, 
      a surgeon appointed for the colony, who came with Governor Printz, in the ship
      "Fama," from Stockholm, Sweden, August 1642, arriving at Fort Christina, 
      "New Sweden" VA 15Feb1643.
     3 Daniel BLANEY b.1760; d.Oct1816 (age56)
       Surveyor, storekeeper, Cout Recorder
      + Sarah CANNON, dau of James CANNON of Philadelphia 
       4 Frances Elizabeth BLANEY b.25Dec1829/39 (New-castle DE); d.Mar1856 (age17)
        + Dr John Herman Bird m.2Sep1851; d.3Mar1871 (Sioux City IO)
          Graduate of Union College, Physician in Chicago IL
          son of William A. Bird and Joanna Davis
          [3 children]
      + Esther Duschane b~1763; m. New Castle Co.; d.1818 age55 
        Dau of Valentine Dushane (Du Chaine) b.1716; d~1779

[speculative & UNPROVEN as child of Daniel & Esther but names, dates and places match]
       4 Cornelius Dushane BLANEY [1096]
         Clerk of the Supreme Court of the State of Delaware 1820s
         Secretary Castle Common 1826-1847, Treasurer 1818-47 [1103]; 
         witness in a case in 1844  [1102]
        + Susan CANNON [Cornelius's wife Sarah b~1792; died 5Aug1865 age73]

         5 ? Daniel BLANEY b.3Mar1819; d.11Mar1819 (age 11d)
         5 ? Eliza BLANEY b.1Feb1828; d.Mar1828 (age 6 wk)
         5 ? Joseph S BLANEY b.? d.Aug1824 

         5 James van Zandt BLANEY AM, MD b.1May1820 (New Castle, Del); d.11Dec1874
           Family Physician; co-founded and later President of Rush Medical College in
           Chicago and Professor of Chemistry at Nth Western University
           Wrote "Chemical Report for the Geological Suvey of Illinois" [1110] 
           Medical Director then Purveyor in Civil war.
           Founded (1844) and many years the Editor of the Chicago Medical Journal [1096]
           Opened  Chicago's 1st medical dispensary and invented synthetic flavours later
           used at soda fountains
           The Masonic "Blayney Lodge No. 271' was named in his honour in 1858 [1099]
          + Clarissa BUTLER m.8Jul1847
            dau. of Walter BUTLER and Maria van ALEN of Chicago 
           6 ?Cornelia Darragh BLANEY b.Dec1873; d.Aug1873 (age 5y9m)
         5 Mary BLANEY b.11Apr1848; d.21Feb1851 [1097]
         5 James Riddle BLANEY b.17Oct1849; d.29Sep1879 [1097] or 29Sep1878;
           Studied medicine & chemistry at Rush Medical College, assisting his father in his researches.
          + Anna (Anne) Reed WILLIAMS m.3Apr1879; d.25Apr1881
            dau. of John Marshall WILLIAMS & Elizabeth SMITH of Evanston, IL.
         5 Walter Butler BLANEY b.21Jul1851; d.8Feb1853 [1097]
         5 Franklin Butler BLANEY b.8Nov1852; d.17Sep1855   
5

Charles Ducshesne BLANEY b.8Aug1854; d.1923; Moved to San Diego, CA Real Estate businessman retired 1911; Progressive Republican; Appointed member of California Highway Commission in 1911 +

Isabella WILLIAMS m.6Sep1877; d.1933; dau. of John Marshall WILLIAMS & Elizabeth SMITH of Evanston, IL Isabella was an active Suffragette -see photo 6 Clarissa Butler BLANEY b.6Sep1883; d.unm.Aug1901 5 Elizabeth BLANEY b.12Jul1856; m.5Apr1887 (Princeton) + Rollin Harper LYNDE (they moved to New York City) son of Charles Rollin LYNDE & Ann Augusta HARPER 6 Charles Rollin LYNDE. Jr., b.27Oct1882 6 Clarissa Butler LYNDE b.5April1887 5 Clarissa BLANEY b.24May1856; m.17Nov1880 (Princeton) + Frank Nelson RUST (they moved to Pasadena, CA.) son of Horatio N. RUST & Fidelia HUMPHREYS 6 Edward Butler RUST b.9May1883
---
---
[8] Neal Blaney descended from [unknown]

Blaneys of Ireland

"most Blaney's came to Ireland in the 1500's from Scotland and Wales before that.... They landed in the the nothern tip and many live in the Mulroy Bay area, Milford, today" [1145]
1

Neal BLANEY b.1Nov1893 Fanad (Co. Donegal); d.30Oct1948; Farmer and ex Irish Republican Army Commander (War of Independence and Civil War); Teachta Dála (TD) 1927 to 1948; Senator 1938-1943 for Fianna Fáil. + _ 2

Neil Terence Columba BLANEY T.D.; M.E.P. for Connacht Ulster (Indep.) b.01Oct1922; d.8Nov1995 (cancer) first elected to Dáil Éireann in 1948 as a Fianna Fáil Teachta Dála (TD) representing Donegal East. Minister for Posts and Telegraphs (1957), Minister for Local Government (1957–1966) and Minster for Agriculture and Fisheries (1966–1970). He was at one time Father of the Dáil, but was expelled from the Fianna Fáil party in 1972 following an Arms trial. He returned as an Independent. In Dec 1972 Claimed in the Dail to be party to setting up the Provisional IRA [1146] [1147] Eldest of family of eleven A road in Letterkenny is named the Neil T. Blaney Road in his honour + Eva CORDUFF d.28Aug2009 (Dublin) She opposed the Independent FF rejoining Fianna Fail, stating in 2006: "We have no desire to either join or support the Fianna Fail party and can see no circumstances in the future where this position would change. We consider Fianna Fail to be a party characterised by arrogance, hypocrisy and incompetence." [Statement of widow on Neil Blaney, Eva and their seven children.] 3 Shivaun BLANEY 3 Niall BLANEY 3

Eamonn A BLANEY MBA, Dip Mgt Stood unsucessfully as an Independent (Vision Alliance) for Dublin NE in the 2011 Irish elections 3 Annraoí BLANEY 3 Seán T BLANEY 3 Aoife BLANEY 3

(Mac)Dara BLANEY BBS (youngest son) b.1970 IT Consultant Stood unsucessfully as an Independent (Vision Alliance) for Donegal North East in the 2011 Irish elections 3 Two other sons and two daughters 2 Teddy BLANEY, a former member of Letterkenny UDC 2

Harry (Annraoí) BLANEY b.18Feb1928; Farmer; Has a bridge named after him Retired Teachta Dála (T.D.) for Donegal NE (Independent F.F.); Ex chairman of the North West Health Board; holds strong "pro-life" views A Teachta Dála (TD) for Donegal North–East 1927-1948. [see below in living Blaneys] + __ 3

Liam BLANEY (Counilman in Donegal) Farmer + Celia 3

Niall T Blaney T.D. for Donegal NE (2002-11) b.29Jan1974; Diploma in civil engineering He rejoined the Fianna Fáil party in 2006 and has voted loyally with it until 2011. [see below in living Blaneys] +

Rosaleen SHOVELIN m.Aug 2002 (now separated) 4 Three children, Eva, Laragh & Harry 3 Noelle BLANEY 3 Tricia BLANEY Social Worker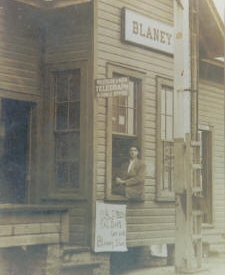 Blaney depot, early 1900s [774]
Comment 1
Why John Blaney elected to drop the "y" from his surname is not clear but many cases have been linked to illiteracy or error. The best example of this I can demonstrate is the use of "Blaney" when listing BLAYNEY graves (yet the photos reveal "BLAYNEY" surnames). [526]
Many names were simplified by Americans and Canadians. An example of this is SPROULE BLAYNEY who has "SPROULE BLAYNEY" on his grave (died 1883) while his wife's family dropped the 1st "y" on her grave on her death 15 years later ie "SPROULE BLANEY" [908]
Busy genealogists and writers have been making the mistake of not using two letter "y"s in Blayney, from some of Lodges' works through to modern web-based writings with frequent references to Blaney Lords (they were all "Blayney" and to Castleblaney (it is "Castleblayney") as one can see by Googling "Lord Blaney" or "Castleblaney".
Blaney was the old name for Elgin in Kershaw Co., South Carolina, USA. The Elgin Watch Co. opened a factory there and in the 1960s asked the town folk to rename the town to Elgin, which they agreed to by public vote. After several years the company abandoned the town..."but they didn't bother to reclaim the name" [773].


Margaret-Ann Blaney, M.P.
Canadian New Brunswick's
Minister of Environment

Sinead Alethea Blaney (UK)
Miss Kent 2009; Dad
Britain's Next Top Model

Dr. Jack Blaney 1997
Order of B.C. Profile
President Emeritus SFU

Walter "Zaney" Blaney (T.X.)
Hall of Fame Magician
1st Int. President 1998

Becky Blaney (T.X.)
Comedienne & Magician; ex
Miss Houston; dau of "Zaney"

James Blaney
Top Rugby tries 2005
Munster / Ireland "A"

Neil T Blaney M.E.P. for
Connacht Ulster (Indep.)
[d.1995]. Son of
Neil Blaney of the IRA

Harry Blaney T.D. for
Donegal NE (Fianna Fáil)
Brother of Neil T;
Bridge named after him

Niall T Blaney T.D.
for Donegal NE
(Fianna Fáil)
Son of Harry

George Blaney (CT)
Basketball coach
His UConn Huskies beat
No.1 ranked Texas Jan2010

Shaylyn Blaney (N.Y.)
top Notre Dame
Lacrose player
(3x All-American)

Orlaith Blaney (Eire)
1st female Managing
Director of a major
Irish Ad agency

Dave Blaney (O.H.)
NASCAR driver '98-'04
Sharon Speedway Owner

Prof David Blaney (UK)
GP; PhD (Ed) now
HYMS Undergrad. Dean

Diana Blaney PhD (C.A.)
Mars Scientist NASA-JPL
MER Dept Project Scientist

James Blaney DDS, MSD
(T.N.) Endodontic Dentist
Navy Humanit. Medal '85

Joe Blaney (N.Y.)
Platinum selling Music
Producer/mixer/Engineer

Joseph E Blaney Jn
NIH (M.D.) Infectious
Disease researcher

Donal Blaney (UK)
Co-founder of Conservative
Young Britons' Foundation

Dale Blaney (O.H.)
Top Mountaineer Basketballer
(1983-86); now sprint-car racer

Margaret-Ann Blaney (Canada)
MP St John-Kings; Minister
of Public Safety New Brunswick

Michael W Blaney MD FACS
(G.A.) Bariatric Surgeon
Army then Pvt practice

Ed Blaney (UK)
songwriter, producer &
Salford City Radio host

John W Blaney III (C.A.)
US Ambassador to
Liberia (2002-5); Author

Sue Blaney (M.A.)
communications expert,
author & publisher

Prof Benjamin Blaney PhD
Mississippi State Uni
[Foreign Language] Awards

Robert Blaney (A.Z.)
Arizona District Director
US Small Business Admin.

Frederick Blaney (F.L.)
Burglary Charge (bond)
Thugshot 18 Feb 2010

Dr David Blaney PhD
Dir. Strategic Development
HEFCW (Wales)

Prof Susan Blaney, M.D.
Paed oncology, Baylor
College of Med. (T.X.)

Ann Blaney (Ireland)
Olympic Sailor 2004
see Sportsfile

Steven Blaney MP
(Lévis—Bellechasse, Can.)
Min. of Veterans Affairs

William Banks-Blaney
ex Tory MP lover
in political scandal

Norah Blaney (UK)
20s/30s Music hall star
(1893-1983)

Darren Blaney (Can)
ex Chief of the
Homalco 1st Nation BC

Darren Blaney PhD blog
Teacher, playWright, Essayist
Actor & director (NE)

Keith Blaney (US)
Actor, comedian
see Crayons

Rob Blaney (CA)
Composer, Arranger, Pianist,
& vocalist. See Gig Salad

William Blaney (PA)
2009 Penn State Fayette
Outstanding Fellow

Mark Blaney (UK)
Film Producer 1, Co-
founder Footprint Films

Corley Blaney (MA)
Chicago Realter, Owner
Elite Residential Services

Shirlie Blaney (NH)
only journalist interview
with J D Salinger [1112]

Harry Blaney MA (N.W.)
Senior Fellow CIP
President & CEO COLEAD