Irish Blayneys

The Irish Enigma

While the Baronal Blayneys of Monaghan were landed, strongly Protestant and held clear lineages from Blayneys descended from Welsh princes, Blaney families from other parts of Ireland tended to be Catholic and in the main poor with no known geneaological link to the Blayneys of Montgomeryshire. [331], [332] There are possible links to 'Blanes' in Scotland (and known frequent migration between Ireland and Scotland over the centuries).

However it is clear from the 185% figures that the numbers were relatively low and remained concentrated in Ulster / Northern Ireland (with a few moving to Dublin and some on the USA or Canada). The Blayneys (with 2 "y"s) largely stayed Protestant and in Northern Ireland. Those who identified as Catholic were mainly Blaneys (one "y") [=389] and also concentrated in Ulster.

This makes it more likely that most derived from Welsh immigrant (Planter) Blayneys related to but not actually descended from the Barons who left no identified Blayney male heir. [35]; [36] A number of the Welsh family of the 1st Blayney Baron (Sir Edward Blayney) "migrated to County Monaghan to take advantage of his influence and purchase land" [707] pp. 301-2; [1316] and there were eight other Blayneys at his funeral [35] p7; [1316].

All this of course appears to make a search for another Irish Blayney origin unnecessary, although I am not yet convinced all Blaneys derive from the Welsh Blayneys, given they were more likely to be Catholic and the Blayneys were strongly Protestant. Other factors such as literacy (hence the dropped "y") or intermarriage need exploring.

Should anyone know of another origin of Blayneys and Blaneys in Ireland, I would love to report that on this site

Contents: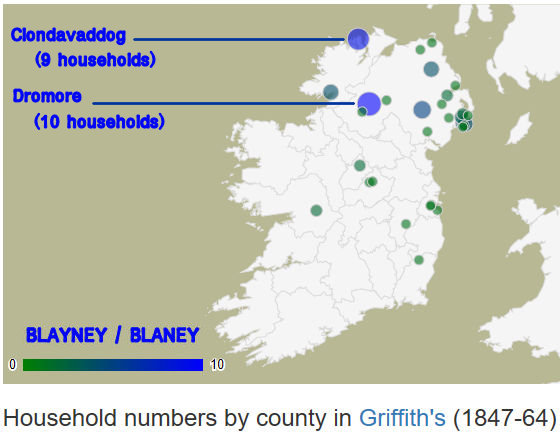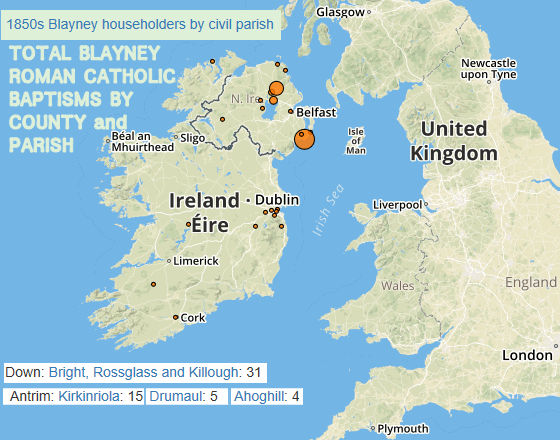 Irish Catholic baptisms: Blaney (389), Blayney (46)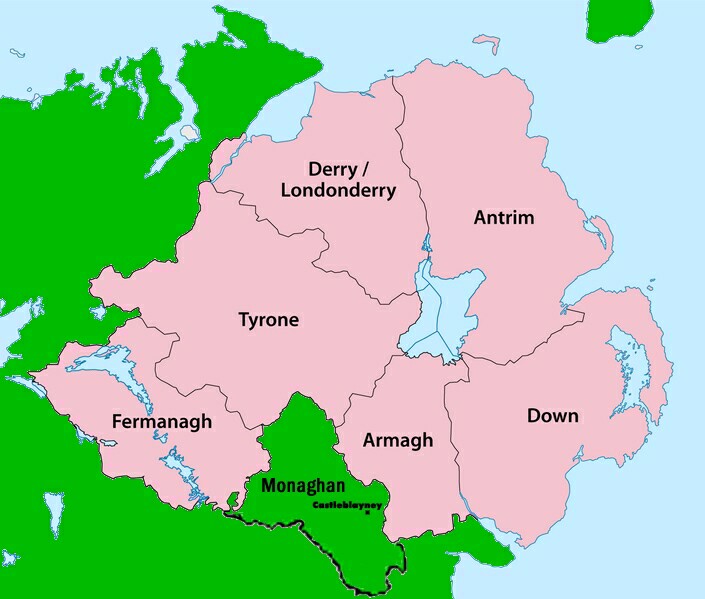 Irish Counties mentioned - click to enlarge
---
---
[2] Blayneys of Belfast
This lineage courtesy of Eric Blayney [1254] with additions and corrections from Familysearch.org [1264] and Ancestry.com search [1263] as well as the General Register Office for Northern Ireland [1258].

1 Daniel BLAYNEY Occ. Miller b.1809; d.24Dec1870
  Possibly the Daniel Blayney, labourer residing at 42 Academy Street (1861) [1255]  
  There were no Blayneys in the 1843 Belfast Street Directory and in 1852 there was one, an Archibald Blayney,
  grocer and publican [Johnston's Place, Ballymacarrett] [1256]. Could this be Daniel's father?
  [Unlikely given Archibald died 9.Dec1888 aged 80 (Belfast) [1258] 
   making him so more likely to be an older brother!
   However the father was given as Alexander Blane b.~1780 and mother Janes by
   "Blayney Family Tree, From Belfast area" [1596] who in turn was
    probably descended from Patrick and Jane Blayney from Shankill.] 
  By 1864 (GRO BDM record starts), there were a number of Blayneys not listed in this genealogy 
  - hopefully I will find another genealogist with the basic info one day!)
 + Sarah
  2 John BLAYNEY b.1828; d.15Nov1875; Occ Builder
   + Margaret WEIR b.1833 (Scotland); m.2Aug1851 (Belfast); d.24Dec1911
     [dau. of Daniel WEIR, Tailor]. 
    Subsequent marriage to Arthur NUGENT


3

Thomas BLAYNEY b.1862; d.8Aug1919; Occ. Stone Merchant & quarry owner; Store Merchant (1909) [1258]; Methodist +(1)

Charlotte SWAIN b.18July1865 [1258]; m.2Feb1885; d.28Aug1906 age 42 (all Belfast) [Dau of Alexander SWAIN, Occ. Watchmaker] [Thomas remarried 1909 to Annie PATTERSON] 4

Elizabeth ("Beth", "Lizzie") BLAYNEY b.19Oct1885 [1596] (1886/7} [1258]; Occ. Designer + Walter COOPER b.1886; m.30Apr1908 (Belfast) [1258]; [1 child] 4

Annie Swain BLAYNEY b.3Aug1887 (Belfast) [1258]; ?Emigrated to Canada (if she did, she returned); d.unm d.12Oct1957 (Belfast) (Cancer) [1258]; Occ. Bookkeeper; Clerk 4

Frederick ("Fred") BLAYNEY b.27Feb1890 (Belfast); d.unm 21/23Jul1952 [1258]; Occ. Stone Cutter 4

John BLAYNEY b.1May1892 (Belfast) [1258]; d.29Jul1960 (Vancouver); Occ. Clerk (1911); Accountant Emigrated to USA (South Pasedena CA 1911), then Canada +(1)Louise Isobel McCULLOUGH b.1893; d.1930-40 5 Charlotte Louise BLAYNEY b.24Apr1916 (LA, CA.); d.28Jun1996 (Los Angeles) + Robert Samuel WILKINSON b.1912; m.3Jun1950; d.20Jul1993 3 WILKINSON children (Robert, Desmond & Byron) 5 Edith Sara BLAYNEY b.1918 + Alexander MORRISON m.3Jul1940 [1 child] +(2)

Charlotte PEACOCK née FUNSTON b.20May1903(or 3Aug2012); d.6Oct1990 (or 26Aug2006) Previously married to William PEACOCK 1977 [dau. of William Thomas FUNSTON & Annie Marie STEEN). 4

George Weir BLAYNEY b.9Oct1894 (Belfast) [1258] d.22Mar1963 [1258]; Occ. Stone Cutter +

Sarah ("Beanie") FULTON b.20/23Mar1896; m.23Dec1918 (Mountpottinger Baptist Church, Belfast) [1258] d.28Mar1985 [Dau. of William FULTON, Lithogric Printer] [1258] 5

Dorothy BLAYNEY b.5Nov1919 + Harold Nesbitt ARKELL m.23Jun1943 (Mountpottinger) 5


Pastor George Fulton BLAYNEY b.1923; d.01Oct2005 + Muriel Elizabeth DAVIDSON m.20Apr1946 (Mountpottinger) 4

Thomas ("Tom") BLAYNEY b.31Jul1898 (Belfast) [1258] or 1899; d.4Apr1968; Occ. Motor Mechanic +

Elizabeth (Liddie) Wood DUNLOP b.12Jul1897; m.24Nov1920 [1258]; d.13Mar1986 (Bangor, NI) 5

Thomas (Tom) BLAYNEY b.17Apr1922; d.26Sep2013 (Bangor); Occ. Cashier (Belfast Steamship Co/P&O) + Living BLAYNEY view family (?p/w problem) 4

Charlotte Margaretta (GretSta or Gretta) BLAYNEY b.3Jan1901 (Belfast); Emigrated to Canada (Peterborough ON) +

William James (Jim) McKINTY b.28Jan1900 [1258]; m.9Sep1920 (Belfast) [1258]; [1 child] 4

William ("Billy") Alexander BLAYNEY b.10Dec1903 (Belfast) [1258]; d.unm 27May1955 [1258] +(2)

Sarah Annie Sophia PATTERSON b.1872 or 1876 (England) [1269]; m.10Apr1909; d.14Jan1922 [2nd wife of Thomas Blayney 1862-1919] [dau. of John PATTERSON d.<1908] [1258] 4

Henry ("Harry") BLAYNEY b.18Oct1909 (Belfast) [1258] d.8Mar1971 (Donaghadee); Labourer + Rachel BURNS b.1917; d.25Jul1997 5 Stephen Alexander BLAYNEY b.Oct1958 + Eleanor Mary __ 3 Frederick BLAYNEY b.1858 (Belfast) [Aged 25 at wedding 16Jul1882]; Occ. Stone Cutter. Aged 25 at wedding; d.13Jan1907 (Pulmonary TB) aged 48 in Belfast [1258]; Death Certificate has son-in-law as Joseph SCOTT. + Mary Ann HOWARD b.1859/60; d.13Jul1935 (Belfast) m.16Jul1882 (St Annes Cathedral, Church of Ireland) [1258] [dau. of John Howard, labourer] 4 Elizabeth BLAYNEY b.1878 (Belfast); Aged 22 at wedding + Joseph SCOTT m.1Jan1900 [1258] 4 Margaret BLAYNEY b.30Apr1883 (Belfast); Occ. Spinner + Charles HARDING b~1878; m.24Dec1902 (St Annes Cathedral Church of Ireland, Belfast); widower; Occ. Labourer [1258] [son of Richard HARDNG] 5 Two children - Frederick and Mary 4 John BLAYNEY b.17Jul1884 (Belfast); Occ. Stonecutter (at 28 Tamar Street, Belfast in 1908 [1257]) + Ellen McCONNELL 5 Frederick BLAYNEY b.4Apr1905 (Belfast) 5 Mary Howard BLAYNEY b.27Jan1908; d.9Jan1910 (both Belfast) 5 John BLAYNEY b.21Nov1910 (Belfast) A batchelor farmer John BLAYNEY died of septicaemia on 1Jan1936 4 Charlotte BLAYNEY b.12Sep1887 + David MAXWELL m.7Jul1906 (Dundela Presbyterian) [1258] 5 MAXWELL children: Elizabeth Ann; Mary Ann Blayney; Thomasina & David. 4 Sarah BLAYNEY b.8May1889 + James JONES m.25Dec1909 (Mountpottinger Baptist Tabernacle, Belfast) [1258] 4 Harriet BLAYNEY b.13Apr1891 (Belfast) [1258] + Thomas WILSON b.30Aug1873 + Mr CLARKE 19Jun1910 (Belfast) [1258] 4 Edward BLAYNEY b.18Mar1893 [1258] + Caroline DREW m.23Mar1913 (Belfast) [1258] 5 Robert BLAYNEY b.18Dec1919 (Belfast) 4 Thomas BLAYNEY b.26Apr1895 (Belfast) [1258] 4 Frederick BLAYNEY b.31Aug1897 (Belfast) [1258] + Ketty MURPHY b.~1900; m.28Mar1928 (Registry Office, Belfast) [1258] 4 Henry BLAYNEY b.4Jun1899 (Belfast) [1258]; Occ. Labourer + Martha Mildred SLOAN b~1898; m.15Sep1919 (Ballymacarrett Church of Ireland) [1258] 5 dau. BLAYNEY b.31May1937; d.31May1937 4 James Robert BLAYNEY b.17Jul1901 (Belfast) [1258]; d.20Mar1953 ... who was one (last) of 10 children [1266] + Martha MONTGOMERY m.16Jul1923 (St Annes Cathedral Church of Ireland) [1258] 5

Edward BLAYNEY b.24Aug1932 (Belfast); d.24Sep1913; Served in the Merchant navy [1266] Living BLAYNEY view family (?p/w problem) 5 John BLAYNEY b.c1939 (Belfast); d.14March1940 (Belfast) 3 John BLAYNEY b.1870; d.11Feb1950 [1258]; Occ. Stone Cutter; Baptist + Mary (Minnie) Jane DALE b.1872; m.18Sep1896 (Belfast) [1258]; d.28Dec1956 age 86 [1258] [so b.~1870] 4 James BLAYNEY b.28Oct1897 (Belfast) [1258] A James Blayney married a Ms Nicholl 31Aug1918 (Belfast) [1258] A James Blayney married a Ms Montgomery 16July1923 (Belfast) [1258] 4 Charlotte K BLAYNEY b.9Oct1900 (Belfast) [1258] 4 Thomas BLAYNEY b.25Jan1904 4 Margaret BLAYNEY b.27Dec1908 (Belfast) [1258] 3 Elizabeth BLAYNEY b.16Jun1865 [1258] + Thomas McCLELLAND m.2Sep1889 (Regent Street Baptist Church, Belfast); Occ. Mechanic
---
   


[6] Other Blayneys of Ireland



1 Capt Alexander BLAYNEY (BLANEY) b.1827 (Antrim); d.26Feb1884 (Belfast); a ship owner/master of Cushendall, Co. Antrim 
  "Shipsmaster" (Glenarm Ship Townland, Tickmacremon Co., Antrim) in 1851 Census.
 + Anne Jane McAULEY, eldest dau of Archibald McAuley, Esq., Ballybrack 
   b.1837; m.1863 (Catholic Church, Cushendall); d.1916
   ? sister of Henry McAULEY (Seaman with Alex in the 1851 Census).
   [dau of Archibald (John) McAULEY and Mary McELHERAN]
  2 Dr Alexander Joseph McAULEY BLAYNEY MB, MA, FRCSI b.24Nov1869 (Armagh)
    1st class, biological science University College, Dublin 1891
    Major in RAMC; lived in Dublin as a distinguished Mater Hospital surgeon.
    Spent entire week of Easter rising 1916 operating on wounded taking naps when able. 
   + Mary STANTON (MAGAN) b.~1865; m.1908; d.1909 
     [dau of Michael MAGAN or John STANTON]
    3 Four children including:
    3 ?Mary Rachel BLAYNEY
     + Maj. Brian R. ENSOR
    3 Alice BLAYNEY
     + Thomas Aloysius FINLAY b.17Sep1922 (Blackrock, Dublin); d.3Dec2017 
       7th Chief Justice of Ireland (1985-1994)
      4  Mary FINLAY b.11Jul1951; Irish judge: Court of Appeal (2014-2017); 
        High Court (2002-2014) and Supreme Court of Ireland since December 2017.
       + Hugh GEOGHEGAN b.16May1938; m.1981; [son of a Supreme Court judge James GEOGHEGAN]
         Retired Irish judge (High Court 1992-2000), (Supreme Court 2000-2010) 
3

Mr Justice John Joseph BLAYNEY KSG (youngest child) b.13Mar1925; d.17Jun2018 (both Dublin); Played rugby for Ireland against Scotland 1950 (and scored a runaway try!) Occ. barrister (Called to the bar 1948), senior counsel 1974, University College of Dublin Lecturer; Judge of the High Court 1986 then Supreme Court Judge 1992-1997. Occasional Irish representative on the European Court of Human Rights Papal Knighthood by Pope Benedict [Knight of the Order of St Gregory] Although very conservative, John was a highly orthodox lawyer sceptical of judicial activism, who believed judges were there to apply the letter of the law, not reshape the body politic. + Bernadette BOULLIER b.(France) 4 Benedict BLAYNEY + Christine 5

Anselme BLAYNEY +

Alice QUILLET b. (Paris); m.25Jul2009 [dau of Denis and Lindi QUILLET] 5

Matthieu BLAYNEY 4 Martine BLAYNEY 4 Marc BLAYNEY 4 Anne BLAYNEY 4 Philip BLAYNEY 4 John-Anthony BLAYNEY 2 Annie Josephine b.~1869 ("home" with Alexander at 1901 Irish Census) 2 Dr Neil John BLAYNEY of Portlaoighaise b.1874; d.1919 2 Dr William BLAYNEY b.1877 (Cushendall); d.4Dec1948 Royal Irish Constabulary from 1899; Major in WWI 1914-18; County Inspector in 1922 Then studied medicine, qualified at age 50, practised in Harrold, Bedford + Mary BEVERIDGE m.1917 [dau of John BEVERIDGE, town clerk of Dublin] [1324] 3 Four sons including: 3 Noel BLAYNEY 3 John BLAYNEY 3

William Neil BLAYNEY, ACSM b.21Jan1921 (Dublin); d.20Feb2016 Grew up in England; Served in WWII; Occ. Mining engineer and manager of underground mines in Canada, USA, Ireland and South Africa + Marie Denise Raymonde MALLAC [dau of late Henri Mallac of Forest Side, Mauritius] b.27June1917 (Mauritius); d.31July2002 4 Patrick BLAYNEY + Candice 4 Marie Josephine (Josee) BLAYNEY + Mike 4 Paul BLAYNEY + Noemy Lopez 3 Gerald BLAYNEY + Elizabeth 3 Rachel BLAYNEY 3 Eily BLAYNEY 3 Maire BLAYNEY
---