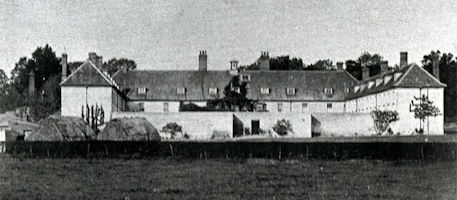 Cosford Union Workhouse
 
1   William Thomas CUTHBERT b.3Mar1836, Ipswich, England.
   Possibly the son of Mary and younger son of James living
   in the Cosaford Union Workhouse as a child in 1841.
   Occ. bricklayer (foreman of the London Bridge construction)
   m.25Dec1859 Dartford, England [130]
   Emmigrated to NZ aged 27 in 1837 on the Bombay [1005] [1006]
   d.10Jul1899 [Nephritis, Auckland Hospital], Buried at C.of.E.
   "St Peters in the Forest", Bombay, NZ
   William was a Choirister & Sunday School teacher (served on 
   vestry of Church of England, St Peters in the Forest, 
   Bombay where he is interred).  He also served on the local 
   school committee and the Road Board. [136] [141]
   On 9th Feb 1875 he was appointed Vaccination Inspector at 
   West Taieri [NZ Gazette]
 +  Jane (Jean) Mazella HOARE
   b.02Oct1835 Horton Kirby, Dartford, Kent; 
   bpt.25Oct1835 [139] (Dartford, Kent)
   Her age was 23 on her marriage certificate (ie born 1836)
   presumably as William was only 23! 
   On boarding the Bombay she was 27 (ie b.1837) [1005] and
   in a 1912 photo she was 74 (ie born 1838), 
   so she got younger as she aged!
   d/o Francis HOARE and Mary Ann SEFFENS. See Hoare.html
   m.25Dec1859 (Horton, Kirby, Kent) in the presence of her
   brother Robert Hoare and sister Elizabeth Whittle. [136] [139]
   d.16Aug1923 Dargaville, NZ (home of son William).
   Interred Mt Wesley Cemetery, Dargaville.

Headstone of William & Jane at St Peters in the Forest

St Peters in the Forest, Bombay
William, Jean & Beatrice CUTHBERT sailed from London on the 937 ton full-rigged ship BOMBAY flying the Shaw Savill flag on 26Nov1864 and arrived Auckland on 18Mar1865, storm damaged and under tow (first by the Circular Saw liner Constance then by HMS Curacoa) [135] [1006] They were given a grant of 10 acres at Bombay and carried their supplies from Auckland on their backs. [136] 2 Alice CUTHBERT b.20Sep1862 (Lambeth) [139] d.1864 (Mar quarter) at St Olave [Smallpox [136]] 2 William Charles CUTHBERT b.1860 (Dartford, Kent) [139] d.1863 (Dec Quarter) at Dartford [Smallpox [136]] 2 Possibly two other children who also died of smallpox [136] 2 Beatrice Jane CUTHBERT b.Oct1864 (St Olave) [139] Chr. 30Oct1864, St Mathews, Brixton, Surrey [139] d.Mar1865 (4mths) interred in Drury cemetry, NZ 2

George CUTHBERT b.3Jun1866 NZ d.3Jan1925 (drowned), NZ + Susan McDONALD They had a shop at Woodhill. 3 Gordon CUTHBERT + Elizabeth WHITTLE (step daughter of marriage witnessing Elizabeth WHITTLE), so a "2nd cousin-in law once removed" 2

Francis (Frank) James CUTHBERT b.15Aug1869 (1870) NZ. Occ. General Labourer, storekeeper (at Mauku) then farmer d.1963, NZ. Crem.15Feb1963 [121] + Ann SPILSBURY, sister of Hannah. d.1918 in influenza epidemic view family (get password) 2

Alice Jane CUTHBERT b.28Apr1871 (Bombay, Auckland); d.5Jan1945, NZ + Joseph CARRUTHERS b.20Aug1854, NZ Occ. farmer m.(21)26June1893 (St Peters, Bombay); d.12Feb1937 Pollok, NZ See CARRUTHERS family 2

Mildred Eliza CUTHBERT b.21Oct1872 NZ. Lived in Waiuku d.7Feb1964, Manurewa +(1)Frederick Hugh STEPHENS b.23Apr1878 m.10Jan1894 (CoE, Pukekohe) -Prev married to Maria HEALD 1892 [122]; Occ. Land Agent; d.12/13Oct1923 in Wanganui Hospital 3

Lilian Maud STEPHENS [=Maud POWELL] b.18Sep1898 d.5Jul1994 (buried Waiuku Cemetery) +(1)Harry Pretcheard PARRY (no children) d.1Jun1935 Occ. Dairy Farmer, Pukeoware. (brother of Wilfred Henry PARRY, who married Annie McKinlay, the younger sister of George MORLEY's first wife Janet Donald McCALLUM.) +(2)Harold POWELL (no children, but Harold had some from prior marriage) 3 Beatrice Mazella STEPHENS d.unm 1918 (influenza epidemic) 3 Cuthbert Britton STEPHENS b.31Oct1902; d.unm 5Oct1960 3 Marion Freda STEPHENS b.14Feb1905; d.1Jun1993 (Aranui Rest Home) + Arthur MORLEY b.1907; d.25Sep1978; m.23Nov1931 4 view family (get password) 3 Francis (Frank) Ingham STEPHENS b.3Sep1908 Occ. Farmer. Served in WW2 d.19Feb1992 (Massey Park Rest Home Waiuku) + Eva Jean DROMGOOL b.22Feb1918 m.25Jun1946 ob. 4 view family (get password) 3 Mildred Dorris STEPHENS b.12Dec1910 d.14Jan1951 + Leslie Frederick BLACKMAN m.31Aug1929 Occ. Chemist 4 view family (get password) 3

Elizabeth Mavis STEPHENS [=Mavis MORLEY] b.24Oct1912 d.20Aug1997 + Vincent George MORLEY 4 view family (get password) 3 Britton STEPHENS +(2)John Daniel BROWN m.27Dec1925 (Holy Trinity, Waiuku) d.4Jun1935 3 Eva BROWN 3 Dick BROWN As Mildred was 53 when she remarried, the BROWN children were probably either step children or adopted. 2

William (Will) CUTHBERT b.3May1878 NZ. d.29Dec1965, NZ Occ. Blacksmith and Farmer. Moved to Dargeville. +

Hannah SPILSBURY, sister of Ann b.1880 d.21Oct1961 3 view family (get password)