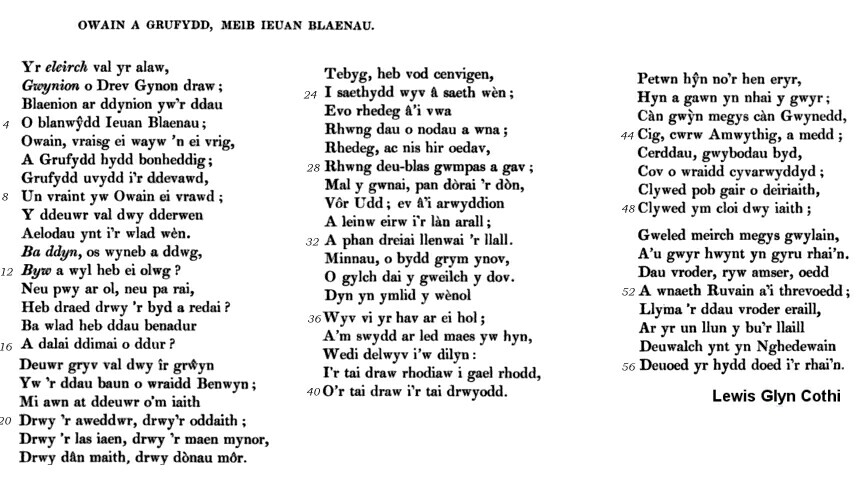 "In this poem are drawn the beautiful characters of two brothers living at unity together, and jointly endeavouring to render every possible service to promote the welfare of the district in which they resided. The bard says respecting them, that 'as eyes are essential to him who is set on the watch; and feet to him that is about to run; so equally essential to the protection and the well-being of Tre Gynon is the existence of Owain and Griffith.' His admiration of their respective characters appears to be great; for he says, that 'he would go through fire and water, and surmount every obstacle, in order to visit them; for their house is not only a house wherein to feast, but also a house where the song is heard, and the literature of our country introduced and cultivated.' " [Lewis [813]].
Footnotes:
28. deu-blas, "two mansions;" namely, Abertechan, seat of Owain; and Greyynoy, seat of Griffith: about three miles distant from each other.
44. cwrw Amwythig, "Shrewsbury ale." That town, in former times, was much commended for its excellent mode of brewing. Iolo Goch, in his Cywydd to Owaia Glyndwr, says, that Owain, when he lived at Sycharth, used to have his ale from Shrewsbury.
&nbsp &nbsp &nbsp &nbsp
Addressed to Owain and Griffith, the sons of leuan Blaenau.
The Blaneys of Gregynog, in the parish of Tre Gynon, in the hundred of Cedewain, Montgomeryshire, trace their descent from leuan Blaenau. The last Blayney of Gregynog (Arthur Blayney, esq.) died unmarried, at an advanced age; and left his whole estate to the viscount Tracy of Toddington, in Gloucestershire, whose daughter and sole heiress married Charles Hanbury, esq., now C. H. Tracey. Lord Blayney, of Monaghan, in the county of Monaghan, Ireland, is of the same stock. Lewis [813]]