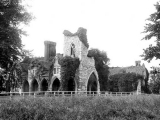 Medmenham Abbey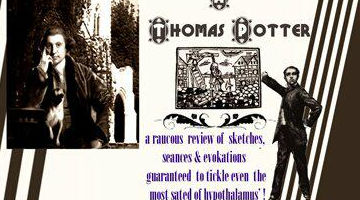 Monks of Medmenham

The infamous Hell-Fire Club met in the ruins of St. Mary's Abbey at Medmenham for 'tasteful' orgies in 'romantic' surroundings. To this day, the Club's motto, fay ce que voudras ("do as you will") is inscribed above the Abbey's main door. The club later moved to the West Wycombe caves because Medmenham to avoid public attention.
Only subsequently labelled a Hell-Fire Club, it was known as the "Monks of Medmenham Abbey" and the "Order of the Knights of St. Francis of Wycombe" and was founded by Sir Francis Dashwood who became "The Abbott" with 12 "the apostles" or "knights" of a "superior order" of 13 (including himself), with an "inferior order" of "monks", "nuns" and guests. Many names have been linked to this Hell-Fire Club, some with more evidence than others.

Below are founding knights=[*1]; possible founding knights=[?1];
"second wave" knights=[*2]; possible "second wave" knights=[?2];
"inferior order" monks=[*3]; possible "inferior order" monks=[?3];
visitors=[*v]; and possible visitors=[?v] :
[*1] Sir Francis Dashwood (Lord le Despencer, author of the Book of Common Prayer, M.P. & Chancellor of the Exchequer and later Postmaster general)
[*1] Thomas Potter (M.P., Paymaster-General, Treasurer for Ireland and younger son of the John Potter, Archbishop of Canterbury)
[*1] William Douglas (Scottish nobleman, 3rd Earl of March, later the 4th Duke of Queensberry, known as "Old Q", a successful gambler - a million Pound fortune on his death in 1810)
[*1] Sir John Stuart (the 3rd Earl of Bute and Prime Minister 1762-3)
[*1] Robert Vansittart (M.P. Regius Professor of Civil Law at Oxford University)
[*1] Sir Henry Vansittart (Governor of Bengal 1760-1764, re-rediscoverer of the Kama Sutra and MP for Reading, brother of Robert)
[*1] John Tucker (M.P. and Mayor of Weymouth)
[*1] Frederick Louis, Prince of Wales (1707-1751)
[*1] Thomas, 2nd Lord Lyttleton (Naughty Tom, son of Lord George, Chancellor of the Exchequer)
[*1] George Bubb Dodington (later 1st Baron (Lord) Melcombe regis)
[*1] Sir John Montagu (4th Earl of Sandwich, after which the meat between bread is named, and First Lord of the Admiralty)
[?1] William Hogarth (artist, painter, pictorial satirist & cartoonist)
[*1] George Augustus Selwyn (satirist, M.P. NOT the Bishop of New Zealand of the same name)
[*1] Edward Thompson
[*2] John Wilkes Esq (radical journalist, defender of liberty, M.P. and Lord Mayor of London), joined 1762, later expelled (possibly because he humiliated John Stuart)
[*2] Charles Churchill (Poet & satirist)
[*2] Robert Lloyd (Poet, dramatist)
[*2] Dr Benjamin Bates (physician, art connoisseur)
[*2] George Bubb Dodington (later 1st Baron (Lord) Melcombe
[?2] Arthur Vansittart of Shottesbrooke (M.P. for Berkshire)
[?2] Sir John D'Aubrey
[*3] Paul Whitehead (poet, satirist, dramatist and administrator of the order)
[*3] Sir Thomas Stapleton (16th Baron le Despencer, Dashwood's cousin)
[*3] Sir John Dashwood-King (Dashwood's half-brother)
[*3] Francis Duffield (owner/landlord of Medmenham Abbey)
[*3] Rev Mr Levett
[*3] Nicholas Rivett (artist)
[*3] Sir William Stanhope (2nd Earl of Harrington, M.P. and General)
[*3] Sir Francis Delaval K.B.
[?3] Richard Brinsley Sheridan (playwright, author of The School For Scandal)
[?3] Lawrence Sterne (Irish author)
[?3] Guiseppe Borgnis (artist)
[?3] Sir William Hamilton (Probably a Dilettante member rather than a Knight of St Francis [456]
[?3] Dr Thomas Thompson (ditto)
[?3] Sir John Vanluttan, kt
[*v] Horace Walpole (politician and author, later 4th Earl of Orford)
[?v] Benjamin Franklin (intellectual and US Revolutionary)
[?v] Chevalier D'Eon de Beaumont (French diplomat and spy)
[453]
[454]
[455]
[457]
It is interesting to note that Frederick (Prince of Wales), while listed as a member also admired Lady Huntington and her Methodism and she became his political supporter! [179]
Thomas either wrote [183] [202] or co-authored the ribald "An Essay on Woman" with Wilkes around 1755 as a parody of Alexander Pope's "Essay On Man". Furthermore, Thomas was the "paramour" of Gertrude Warburton née Tucker, the wife of Bishop William Warburton [169] [202] [203] [402], Bishop of Gloucester (1698-1779), whose pedantic notes on Pope's poem had been obscenely parodied by Thomas and prompted Warburton's friend the Lord Chief Justice Lord Mansfield to find Wilkes guilty of obscene libel! [203]. It is postulated that Thomas was in fact the biological father of Warburton's son! [200] and the poet and satirist Charles Churchill even described Warburton as "a cuckolded husband" [170]. In 1763, after being expelled from the Hell Fire Club, the Earl of Sandwich read out passages from "An Essay on Woman" in parliament in order to discredit Wilkes, and was criticised for his betrayal. Sir Francis Dashwood likened it to "Satan speaking against sin".

See some examples from the Essay (caution, somewhat obscene)
Of great interest to me, personally, is that not only did a distant Potter belong to the "Hellfire Club", but so did a Blayney, none other than the 8th Lord Blayney!